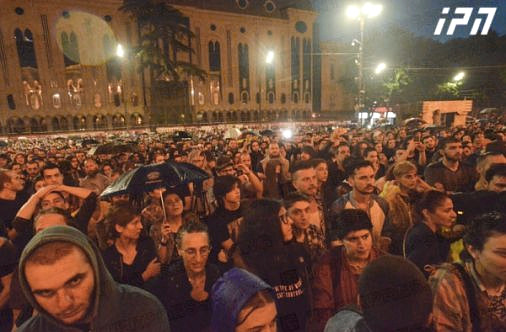 TBILISI, DFWatch–Georgia's prime minister promised to soften the country's drug policy Saturday evening as a large crowd gathered in the capital Tbilisi in support of two detained rappers who claim drugs were planted on them by police as revenge for a music video.
Hundreds of people rallied on Rustaveli Avenue against what they call the illegal detention of two rappers, who make up the group Birja Mafia.
The two detained musicians claim police planted the narcotic drug ecstasy on them as punishment for publishing a music video in which a police officer is depicted in a derogatory manner.
Georgia's PM unexpectedly weighed in on the row and vowed to soften the country's draconian drug policy.
"I call on the parliament to accelerate the work [on the issue of softening drug legislation] in order at last to adopt a modified and humane law for the fall session in line with European standards," Prime Minister Giorgi Kvirikashvili wrote in a statement published on the government website.
The Prosecutor's Office is investigating the detention of two rappers, Kvirikashvili's statement continues, and pledges that 'protecting human rights is one of our most important achievements.'