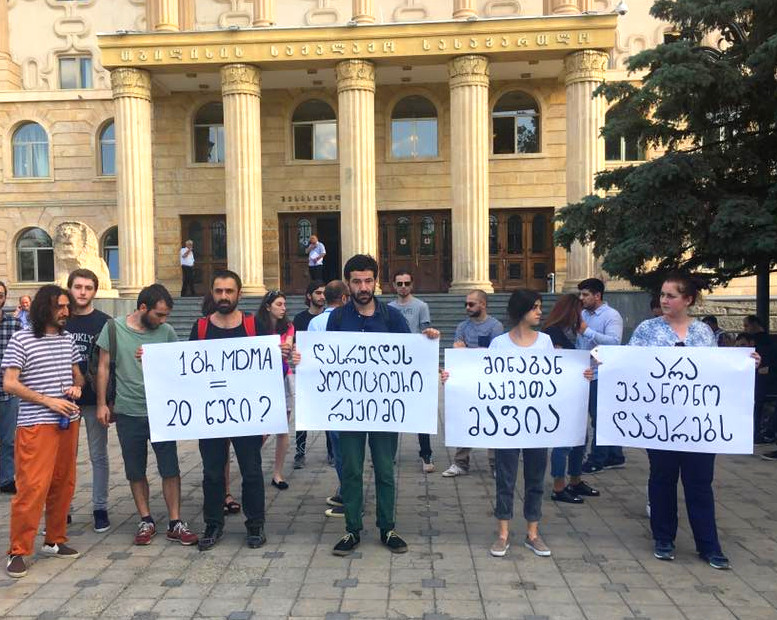 TBILISI, DFWatch–The arrest of two rappers for drug crime in Georgia on Friday adds fuel to criticism against the country's law enforcement agencies, which are already under fire for suspected involvement in the mysterious abduction out of the country of an Azerbaijani journalist eleven days ago.
The two members of the hip hop duo Birja Mafia were brought before a judge who placed them in two month pre-trial detention Friday evening.
In a press release published Friday, the Ministry of Internal Affairs stated the charges against them as possession of a large amount of the recreational psychoactive drug ecstasy (MDMA), a violation of article 260-VI-A of the Criminal Code, a crime which may be punished with up to 20 years in prison.
Police searched the duo – Mishka Mgaloblishvili and Giorgi Keburia – and found 1.4965g and 2.3342g of MDMA on them, respectively.
The average user dose of ecstasy is around 0.1g.
According to the police statement, Keburia pleaded guilty to the charge, meanwhile police continue their investigation into the case based on illegal purchase and possession of particularly large quantities of drugs.
But the two rappers and their friends claim the drug was planted on them as punishment for a recent music video in which a police officer was portrayed in a derogatory manner.
The video portrayed a policeman kneeling and being held on leash as a dog; a clear reference to the insulting slang term 'dog' used about police officers.
Soon after the video was published on Youtube, the group blurred the image so the policeman could not be seen in the video.
Keburia said during the court hearing that after his detention he was told by the police officers: "Let's see how you'll sing now".
His co-rapper Mgaloblishvili, who works as a producer at Maestro TV, is also certain that their arrest was linked to the music video.
Meanwhile, supporters plan to rally at Rustaveli metro Saturday at 7pm to protest against Georgia's harsh drug policies.