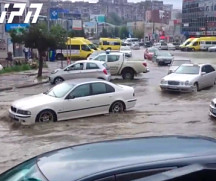 TBILISI, DFWatch–Strong rain with hail hit Tbilisi and some other parts of Georgia on Saturday, causing damage to cars, infrastructure and crops.
As some Tbilisians feared a repeat of the tragic flooding in 2015, the police blocked Vake-Saburtalo Road in Tbilisi following advice from environmentalists of a possible landslide upstream of the river Vere.
The emergency service said they had received hundreds of calls. So far, there are no reports of injuries.
Water collectors failed in several parts of Tbilisi, causing cars to literally float in the streets.
Many cars were damaged by hail.
Hail badly damaged crops in Kakheti and several other places across eastern Georgia.
In June 2015, a sudden release of trapped flood water triggered a tsunami-like wave that ended up at the city's zoo and Hero's Square causing massive damage along the way.