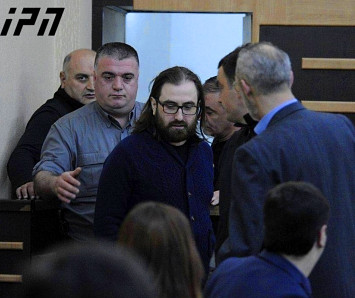 TBILISI, DFWatch–A Tbilisi court on Tuesday sentenced a high ranking cleric to nine years in prison for trying to kill the patriarch's personal secretary with poison. The case has sent shock waves through Georgian society and revealed divisions within one of the country's most popular institutions.
Archpriest Giorgi Mamaladze, who once was close to the head of the Georgian church, was found guilty of assassination attempt against the patriarch's personal secretary and also of illegally possessing a firearm.
The archpriest pleaded not guilty and did not attend the final court hearings. Earlier, he rejected a jury trial.
The case has been dubbed 'the Cyanide Affair' by Georgian media because the priest was arrested at Tbilisi airport with cyanide in his luggage. He was about to leave for Berlin to meet with Ilia II, Catholicos Patriarch of Georgia, who was undergoing therapy at a hospital there.
Later, during a search of the archpriest's home, a pistol was found.
Later, the prosecution released several videos ostensibly filmed by a friend of the priest who reported him to law enforcers and claimed he was planning to commit murder. At first the rumors circulated that the target was Patriarch Ilia II personally, but later the Prosecutor's Office charged him with assassination attempt against Shorena Tetruashvili, the patriarch's personal secretary, who reportedly has a lot of influence among the clergy.
Prosecutors claim Mamaladze viewed Tetruashvili as an obstacle to his career.