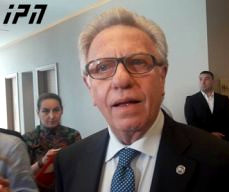 TBILISI, DFWatch–The head of the Council of Europe's Venice Commission Gianni Buquicchio is disappointed by the lack of progress on Georgia's constitutional reform.
The commission president took to Twitter on Monday to react to a lack of agreement between the government and the opposition about holding a next round of negotiations in Strasbourg on September 6.
Buquicchio also expressed dismay at the government's decision to postpone the introduction of a proportional election system by four years to 2024.
"The postponement of the introduction of the proportional system to 2024, as well as the repeated failure of the Georgian parties to reach consensus on the revised Constitution through negotiations is disappointing," Buquicchio wrote.
#Georgia – failure to reach consensus on the revised Constitution through negotiations disappointing https://t.co/Gxf6b2v2Lo

— Gianni Buquicchio (@giannibuquicch1) September 4, 2017
In June, the Venice Commission issued a draft opinion on the revised constitution, which was favorable to the Georgian authorities.
But the document seems more critical after the parties failed to reach consensus, as does Buquicchio's statement which urged Tbilisi to take into onboard the advice of the Council of Europe's experts.
"We encourage the Georgian parliament, before finally adopting the revised draft, to make changes in the light of this opinion and of the dialogue with all Georgian political parties," the statement reads.
Venice Commission recommendations are frequently interpreted differently by the various actors in Georgian politics.
Opposition groups resist the changes they think will concentrate more power with the ruling party Georgian Dream. In late June, Buquicchio described the stalemate a 'crisis'.
Meanwhile, the speaker of parliament says that the new version of the Constitution will be adopted during the fall session in spite of the opposition's objections. The ruling GD can do this because it controls a large enough majority.