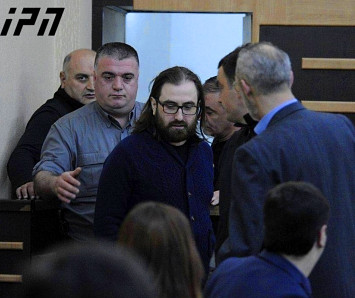 TBILISI, DFWatch–A high profile trial of a Georgian priest accused of planning to murder the patriarch's personal secretary got off to a dramatic start Friday as the defendant left the courtroom in protest and asked his lawyers to do the same.
This was the first hearing at which Tbilisi City Court set about reviewing the substance of the case.
Arch priest Giorgi Mamaladze's protest was caused by a decision by the judge to continue the trial behind closed doors, as demanded by the prosecution.
The latter claimed that the audio, video and written evidence in the case contains information about the personal life of the defendant and others, including "intimate details".
Later the judge appointed a lawyer by the principle of right of counsel to the defendant.
Mamaladze is suspected of premeditated homicide attempt motivated by greed, a crime which carries a sentence of 16 to 20 years in jail.
He was detained at Tbilisi airport February 10, 2017 with sodium cyanide in his luggage as he was about to leave for Berlin to visit Patriarch Ilia II, who was undergoing laparoscopy.
The alleged target of the murder plot was Shorena Tetruashvili, Patriarch Ilia II's personal secretary, who has a strong informal influence among the clergy.
The prosecution's theory is that after Mamaladze was dismissed as head of the Church's property department in January, 2016 and appointed director of St Ioakime and St Ana Medical Center, he believed that Tetruashvili was behind his dismissal and considered his transfer a demotion.
The arch priest insists his innocence and denies all allegations.