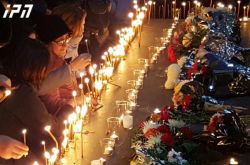 TBILISI, DFWatch–Crowds gathered outside a school in the center of Tbilisi Sunday evening to pay tribute to two teenage boys who were brutally murdered by their peers two days earlier.
School students and teachers, as well as relatives of the victims, politicians and popular figures laid flowers and lit candles in front of Public School #51 to commemorate the death of the two 16 year olds who were enrolled in 11th grade there.
The two boys were stabbed to death just after class about 200 meters from their school on Khorava Street in the Vere district of Tbilisi.
One boy died on Friday on the way to hospital, while the other succumbed to his wounds the next day after multiple rounds of surgery.
Two 16 year old adolescents have been charged with homicide. One of them was arrested on Saturday, but the other is still at large.
About 15 adolescents were involved in the fight, witnesses say.
The two victims attended School #51, while both suspects are enrolled at Experimental School #1.
The murder shocked Georgians, invoking memories of ugly turf wars among youth in the 1990s and setting off a debate about safety in schools and more generally the situation in Georgia's education system.
Mirza Subeliani, a prosecutor at the Prosecutor Office of Georgia, resigned on Sunday, admitting that his son was "a witness" to the fight.