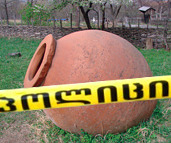 TBILISI, DFWatch–A woman was found dead Wednesday morning, buried in her own garden inside a traditional Georgian wine-brewing tank.
The macabre discovery was made in the village Shakriani, in Georgia's eastern Kakheti region.
The elderly woman had been missing for two days when police found her body inside the ceramic vessel, called a kvevri, which was buried in the woman's garden and covered with soil.
An investigation has been opened for premeditated murder pursuant to article 108 of the Criminal Code.
The woman was a pensioner and lived alone.