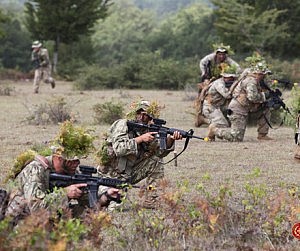 TBILISI, DFWatch–A 39-year-old corporal in the Georgian army died Wednesday morning, apparently from heart failure.
The deceased is Davit Lomidze, a corporal in 52th Battalion of the 5th Infantry Brigade of the Eastern Command of the Land Forces, the Defense Ministry announced on Wednesday morning.
The ministry writes that the cause of the 39-year-old corporal's death was heart failure.
"Davit Lomidze felt bad in the second half on August 9. The corporal died on the way to the hospital which was the nearest hospital to the 5th Infantry Brigade, Gori Central Hospital," the statement reads.
Lomidze had served in the Georgian army since April 16, 2008.
The ministry extended its condolences to the family of the deceased.
A criminal investigation was initiated by the military police department in Shida Kartli. The case is being investigated as murder by negligence  under article 116, first paragraph, of the Criminal Code, which may be punished with two to four years in prison.
If the military police finds grounds for prosecuting anyone, the case will be handed over to the Ministry of Internal Affairs or the Prosecutor General's Office.