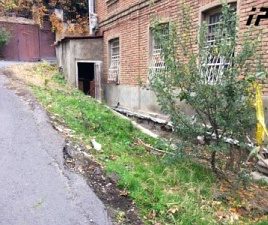 TBILISI, DFWatch–Two persons have been arrested i Georgia accused of involvement in a macabre murder. One of the suspects is accused of killing the victim in an alcohol fuelled rage.
The murder took place in late October, according to investigators.
A neighbor complained about bad odor from a basement and called the emergency service. The body was found on Tuesday on Dolidze Street in Tbilisi. It was dismembered and placed in a bag, in pieces.
The two suspects were arrested for premeditated murder under aggravated circumstances and for avoiding to notify police about the crime.
Investigators believe that one of the suspects was drunk and got into an argument with the victim, beating him with a sharp object which resulted in severe head injuries, which caused the death of the man.
To cover the crime the suspect hid the body close to the house, in a basement.
Both detainees pleaded guilty during questioning, according the the Ministry of Internal Affairs.
A neighbor thought there was a gas leak in the basement because of a horrible smell and called the emergency service, Interpressnews reported.