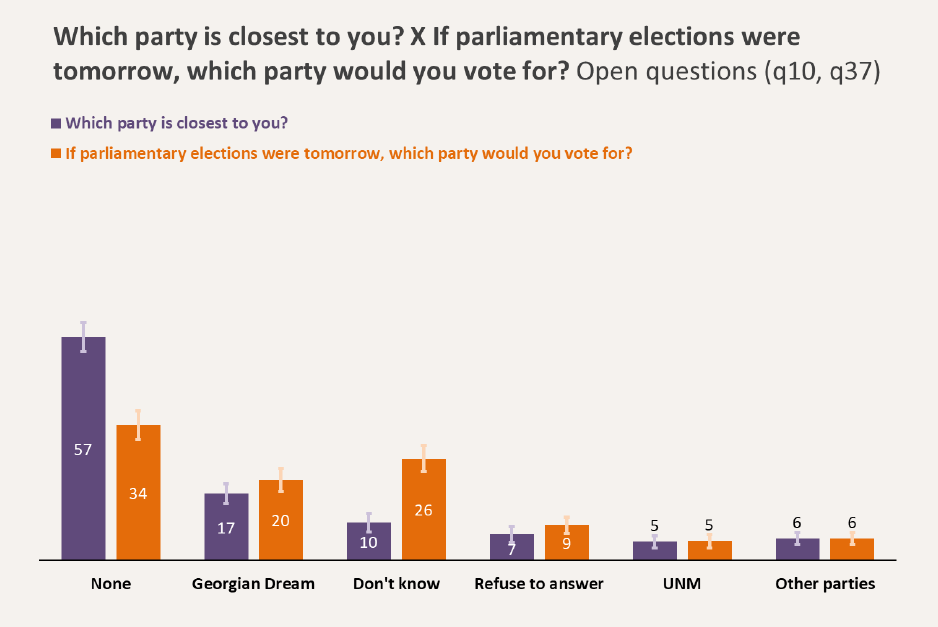 TBILISI, DFWatch-The growing dissatisfaction of the population towards the ruling party is not reflected in the increase in the popularity of opposition and rather indicates the electorate is dissatisfied with political class in general. This is indicated in a poll published on Wednesday by NDI and CRRC.
The majority of the population of Georgia says that no one political party is closest to them, and if parliamentary elections were tomorrow, more than half of them do not know who they will vote for or do not intend to participate in the elections at all, according to the survey.
If the elections were held tomorrow, 20 percent would vote for the ruling Georgian Dream, 5 percent for the United National Movement, and 6 percent for other political parties. The rest either won't vote for anyone or don't know who to circle in the ballot box.
Although the research showed that support for GD is low, and only 37 percent of respondents say that "ruling party is acting in the best interests of the country and Georgian people", this figure is even lower for elected opposition parties – 21 percent.
Even among those who identify with a particular party, 14 percent of GD supporters and 36 percent of opposition supporters say none of the parties represent their interests. Skepticism is the highest among the youth – only 15 percent say there is at least one party representing their views.
In the part of foreign affairs the poll indicates Georgians' unwavering support for political (54 percent) and economic (52 percent) cooperation with the EU. However, the aspirations of the Georgian people come into contrast with a perception that the government is not doing enough to ensure EU membership.