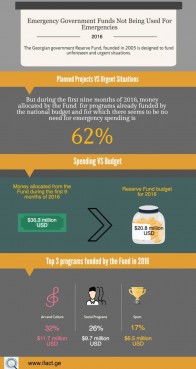 The Georgian Government Reserve Fund aimed at funding unexpected and urgent situations, has spent 62% of its budget for programs already funded by the national budget and for which there seems to be no need for emergency spending, investigative website Ifact reports.
It seems this is not a new trend and the government had handled the issue in the same manner previously as well. For instance, the Fund allocated $2.5 million in 2015 to handle the consequences of the devastating flood that hit Tbilisi centre in June, killing 20 people, while the same fund spent $7.6 million for the European Youth Summer Olympic Festival, which held in Tbilisi the same year. The event was planned at least two year earlier and $3.7 million had already been allocated from Tbilisi city budget for the years 2013-2015, thus rendering it neither 'unexpected' nor 'urgent'.
A State Audit Office report on 2015 spending concluded that proper government budget planning would solve the problem of using emergency funds for planned expenses. The 2015 national budget was $5.1 billion plus a Reserve Fund of $47.2 million; the 2016 national budget was $4.3 billion plus a Reserve Fund of $20.8 million.
Ifact.ge looked into all the Reserve Fund expenditures for the first nine months of 2016, and calculated that 62 percent could be considered 'non-emergency' spending. It includes:
$1.9 million for parliamentary elections. This was in addition to the $18.6 originally budgeted.
$181,500 for annual May 26 Independence Day celebrations, of which $132,700 went to Georgia Public Broadcasting for TV coverage. In 2015, $777,800 was taken from the Fund for May 26 expenses, including $124,400 for Georgia Public Broadcasting.
$2.1 million was transferred to the Ministry of Economics to implement a "Produce in Georgia" agriculture support project.
$8.7 million to cover cost of Microsoft licenses purchased by the Ministry of Finance.
$1.6 million in bonuses for national team athletes.
$4.2 million for a national football development program. This amount was spent despite a different government decree that only $833,000 should be allocated.
Although, the 2009 amendment to the law implies the Fund should only allocate money for urgent projects such as natural disasters, or to fund unforeseen national budget expenses.
Nine months into 2016, the government had already taken $15.4 million from the budgets of the Ministries of Culture, Defense, Foreign Affairs and Environment Protection, and directed that money to the Reserve Fund.
When a national budget is passed by Parliament, a hasty process in Georgia which leaves little time for careful consideration, there is a budget line for the Reserve Fund. In the first 9 months of 2016, Fund spending has already exceeded its budget by $15.4 million, forcing the shift of money from the ministries. In 2015 the Reserve Fund budget was $47.2 million, but final spending was $93.9 million.