Bitfury, one of the biggest companies in the bitcoin industry, operates two bitcoin production centers in Georgia. Bitfury CEO Valery Vavilov promotes the company by listing all the advantages of operating in Georgia. They include:
• The Georgian Co-Investment Fund (GCF) issued a $US10 million convertible note in 2014 to help finance the first center in Gori. GCF was founded by former prime minister Bidzina Ivanishvili in 2013 soon after he resigned from the office.
• Bitfury was able to buy from the Ministry of Economics a prime 18-hectare land plot in the Gldani region of Tbilisi in 2015 for the token price of 1 lari (now about $US 0.40). The market value at that time was over $US 819,000.
• In October 2015, the Georgian government gave Free Industrial Zone (FIZ) status to that land, and the company quickly built a larger center. According to Georgian law, a company doing business in an FIZ is exempted from value added taxes (VAT), profit taxes and property taxes.
• The exemption of the 18 percent VAT is crucial because it means Bitfury does not pay it on their huge electric bill, which Vavilov says is 90-95 percent of the cost of operating a center, which consists mostly of running and cooling thousands of computer servers that create bitcoins through mathematical calculations.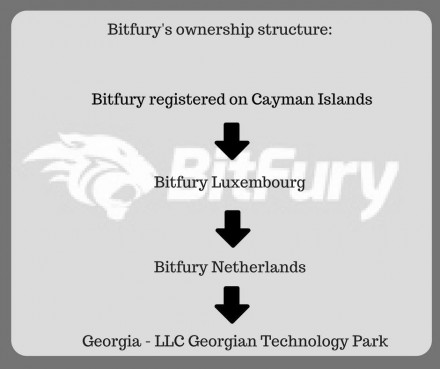 The price Bitfury pays for its electricity is not public information. Ifact.ge has for over one year asked electricity providers Telasi (Tbilisi) and Energo-Pro (Gori) for consumption figures and the rates it charges to Bitfury, but both providers said information is private and they are not able to share it. Telasi gave the same answer when Tbilisi city councilman Aleko Elisashvili requested information about Bitfury's consumption and rates.
When the Tbilisi plant opened in December 2015, monthly electricity consumption in the Gldani region immediately increased by 7 million kilowatt hours (kWh). If Bitfury is paying the normal commercial rate of 19.75 tetri (now about $US 0.08) per kilowatt hour, and its consumption would be 7 million kWh, its monthly bill would be 1.38 million lari (about $US 553,000). The 18 percent savings for paying no VAT would be 248,000 lari (about $US 99,200).
Ephrem Urumashvili, who represents Bitfury interests in Georgia, says that even if Bitfury wasn't located in an FIZ, the company would still not have to pay VAT, because they should be considered a service provider that exports their service abroad.
Mikheil Chelidze, CEO of the Georgia audit service Financial Office, and Georgian economics professor Akaki Tsomaia agree the tax code exempts VAT for service providers who export their service.
According to Georgian law, the tax on profits is 15 percent. Urumashvili has said that Bitfury's daily revenue is sometimes over 300,000 lari ($US 120,000). Based on stated capacity, the FIZ operation in Tbilisi should produce about 50 percent of that daily revenue. (The Gori operation and a third Bitfury operation in Iceland should produce the other 50 percent).
Based on a day when Bitfury's revenue is 300,000 lari, the daily savings on profit tax due to FIZ status is Tbilisi would be 22,500 lari ($9,000).
Bitfury CEO Vavilov told the Georgian magazine Business Contact that the idea of opening a bitcoin operation in Georgia came when he was eating khinkali (dumplings) with friends in a Georgian restaurant.
Among his Georgian acquaintances is George Kikvadze, who served on the Georgian Co-Investment Fund (GCF) Member Advisory Committee from 2013-2016. At the same time, Kikvadze has been Executive Vice Chairman of Bitfury since 2013.
GCF issued a $US10 million convertible note in 2014 to help finance the Gori center. In 2015, when Bitfury started a new round of fundraising to construct the Tbilisi center, they announced that GCF was still their partner. But GCF stated in a letter that the Fund did not invest money in the Tbilisi mining center. GCF CEO George Bachiashvili says Bitfury paid back the convertible note loan and that the Fund has no financial partnership with Bitfury now.
Bachiashvili did state in a letter that the Fund might be interested in investing in Bitfury's blockchain technology, the methods it uses to create bitcoins and move them between online accounts securely.
Bitfury and the Georgia Ministry of Justice are working on a project to use this same blockchain technology to make property registration more transparent.
Bitfury pays no property tax on its 18 hectares in Tbilisi. Bitfury created a daughter company LLC Georgian Technology Park which has been trying to attract other companies to the Tbilisi FIZ. There have been media reports that an Azerbaijan pharmaceutical company has shown interest, but according to Juliet Kinkladze, business development manager for the FIZ, "we have ongoing negotiations with a couple companies, but we do not know when this process will finish."
Ifact.ge sent questions to the Ministry of Economics concerning Bitfury and the FIZ. After two weeks, a spokewoman said the only person who is aware of Tbilisi FIZ issues had broken a leg and was not able to answer our questions.
Ifact.ge has filed a lawsuit against the Ministry of Economics in an attempt to force the ministry to make public a contract signed in 2015 by the ministry and Bitfury which defines rights and obligations concerning the Tbilisi FIZ.
(Editor's note: The lari conversion rate is volatile. Calculations in this story are based on 2.50 lari equals $US1).