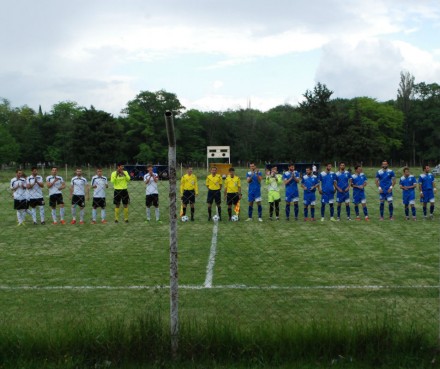 By Giorgi Chaduneli
www.ifact.ge 
In the last two years, there have been six cases exposed of either successful or attempted match fixing in Georgian football.  Players, referees and entire teams have been fined or in some cases permanently banned from the sport. While one case has been working its way through the Tbilisi City Court system for the past year, two new suspicious matches have been uncovered.
 It's a rainy matchday near the end of the 2015-16 season for the Second Division in Georgia football. As you approach the stadium in Mtskheta, there is little to suggest that there is a football match. No ticket is needed in order to enter the stadium where the club Wit Georgia plays its home matches. There is room for 2,000 spectators, but you can sit anywhere. There are about 60 people enjoying the views of the 6th-century Jvari (Cross) Monastery sitting atop a nearby peak looking down on Mtskehta, the ancient capital of Georgia located 20 kilometers west of the modern capital of Tbilisi.
From a couple of small buildings emerge players from the clubs Wit Georgia and Imereti. They acknowledge the tiny crowd as they walk onto the field. The referee blows his whistle and the match begins. Soon the fans begin jeering that same referee: "Where did you see that offside? How much are you paid for that?" But the home team supporters are optimistic: "We have seen worse refereeing, but we always manage to win."
The game itself is not bad considering it's the Second Division in a small country that has enjoyed little football success in recent decades. One Wit Georgia goal is scored on a stylish bicycle kick. Still, it's so quiet and time moves so slowly that you might wonder if you could have spent your 90 minutes better. There's an ambulance and two policemen idly watching in one corner, and overall there are more players, coaches and officials than there are spectators.
And yet there can be huge interest in one of these sleepy matches. But it's corrupt interest, because betting on even these matches is available worldwide using online websites and within Georgia at dozens of gambling parlors. Thousands of dollars are sometimes won and lost on these sleepy matches.
On May 5, 2015, Beka Jitchonaia, a special investigator for the Anti-Corruption Agency within the Ministry of Internal Affairs, told a press conference that raids in the cities of Tbilisi and Kutaisi led to the detention of several individuals for bribing football players and officials.
"The investigation established that the arrested persons, in exchange for money which varied from 10,000 to 20,000 lari (about $US 4,400 to $US8,800) made pre-agreements with the representatives of the different teams to achieve the desired results," Jitchoniai said. "Then, based on the information received in advance, they made bets via online bookmaking websites and shared the money they won."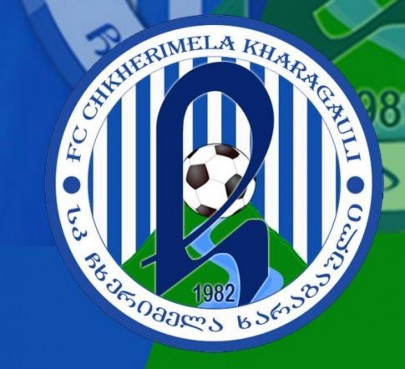 Those arrested included Otar Shengelia, president of the STU Tbilisi football club, two players from the fooball club Kharagauli Chkerimela, a player and official from the Sachkere Chikhura club, a former player for the Kutaisi Torpedo club, and two other men who alleged participated in the bribery. If convicted, they could face 4-6 years in prison. 
Also arrested was Omar Nakaidze, a self-described mathematics specialist who claims to know nothing about football. At that press conference, Jitchoniai called Nakaidze "a representative of an Asian bookmaker sports betting facility." Prosecutors have backed off on that claim of an Asian connection.
Sports gambling watchdogs say that as much as 80 percent of the money wagered on football matches worldwide comes from Asia, and that match fixers often focus on poorly-paid Second Division teams from small countries.
On July 18, Interpol announced the arrests of more than 4,100 people and the seizure of $US13.6 million for illegal betting on the recent European Football championships. The arrests were made in Hong Kong, Macau, Malaysia, Singapore, Thailand and Vietnam, in addition to France, Greece and Italy.
The Georgia court cases have been going on for over a year. The main witness is Giorgi Ghelaghutashvili, an Anti-Corruption Agency specialist who went undercover. There are over 3,000 pages of court documents in addition to secretly recorded audio  and video tapes.
According to Ghelaghutashvili, in October of 2014 he met an acquaintance, former Avasa football coach Levan Mikeladze. Ghelaghutashvili told him that a football player who was his friend was playing abroad and wanted to return to Georgia. Mikeladze said he knew a former Georgian player, David Gendzekhadze, who could help.
Gendzekhadze met with Ghelaghutashvili on November 13, 2014. "He (Gendzekhadze) told me that he had a conversation with the coach from the Saburtalo football club and could organize a tryout for my friend," said Ghelaghutashvili.
"During the conversation, Gendzekhadze asked me if I had made a bet on the recent match between the national teams of Georgia and Poland. I said that a friend bet approximately $US 9,000 on Poland to win. Gendzekhadze liked what I told him and said that if my friend and I were interested, he could fix matches in the Georgian league."
 Ghelaghutashvili testified that he met Gendzekhadze several more times and got to know the other men charged with the crimes.
Match 1
 FC Betlemi Qeda vs. FC Mertskhali Ozurgeti
The bet — More than 1.5 goals will be scored in first half and more than 4.5 goals will be scored in the match.
Final result – 8-0 win for Betlemi
Amount of money bet – $US 1,945.02
Amount of money won – $US 2,359 
On December 4, 2014, Gendzekhadze, Ghelaghutashvili and two gamblers, Giorgi Kukhalashvili and Ioseb Gioshvili, met in a Tbilisi apartment. "A couple of minutes before the match began, I was told that five or more goals will be scored," Ghelaghutashvili testified. "I opened an account I created at betfair.com and  Gioshvili started to bet. During the first half he bet that 1.5 or more goals would be scored. It means that at least 2 goals had to be scored in the first half. Then Gioshvili bet that more than 4.5 goals would be scored, meaning that 5 or more goals had to be scored during the whole game. Overall, Gioshvili bet $1,945.02. The money in the account was given to me by the Bureau." 
According to Ghelaghutashvili, it became obvious that others found out that this match was fixed: "Some of the players informed others, and so much money was bet that the gambling site would only let us bet $1,945.
"Gendzekhadze, Kukhalashvili and Gioshvili told me to give the players only $US1,000 from the money we won, instead of $US2,000 as had been agreed. As for the remaining $US1,539, I suggested the four of us divide it equally."
 According to court documents, a few days after this match Ghelaghutashvili met Gendzekhadze, who promised to introduce him to someone named Omar who had was very familiar with the Asian betting sites, and could help them win even more money.
Omar Nakaidze was the man who the Anti-Corruption investigator said was the Asian representative in the Caucasus for the website ibcbet. Nakaidze's attorney Archil Shabashvili calls that accusation "bizarre".
"Even if it was true, so what? Is it a crime?" Shabashvili says. "He can be someone's representative in the Caucasus or Thailand or anywhere. It does not matter in this case at all."
Prosecutor Giorgi Davitashvili now says that there is no proof that Nakaidze or anyone else had any kind of agreement with any kind of Asian betting facility. "These and other theories were investigated," says Davitashvili.
Nakaidze is in his fifties and lives in an old Tbilisi apartment building. One corner of his room serves as an office. Taped on the walls are papers with the names of betting sites and usernames. He has four computers with four different internet connections.
"When you are betting, it is important to catch the moment," explains Nakaidze. He insists he is not guilty of any match fixing. He claims to know nothing about football, but says he just knows how to bet using math and has been doing it for a long time.
He spends all his time looking at numerous online betting websites for a so-called surebet, which occurs when there is a slight difference in the odds for a match on two different sites, and betting one team on the first site and the second team on the second site produces a small but guaranteed profit.
"It can be just a quick moment when this happens. So you have to be quick to place your bet, because the odds are changing very quickly," says Nakaidze. Because he bets so much, he receives VIP treatment on some websites which helps him win even more. As a result, other gamblers often ask Nakaidze to place bets for them, and then he keeps a share of those winnings.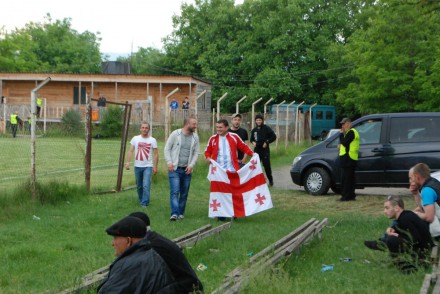 Match 2
FC Lazika Zugdidi vs FC Chkherimela
The bet – No more than 2 goals will be scored
Final result – 2-0 win for Lazika Zugdidi
Amount of money bet – $US7,532
Amount of money won – $US14,125
According to court documents, Nakaidze, Gendzekhadze, Gioshvili and former FC Kutaisi Torpedo player Giga Burjanadze contacted the undercover agent Ghelaghutashvili and told him him that a match in the western Georgian town of  Zugdidi on March 23, 2015, was fixed. When they saw on the websites that the odds on more than 2.5 goals being scored were going down, they decided to bet that less than 2.5 goals would be scored. On the day of the match, this group used money in Ghelaghutashvili's and Nakaidze's betting accounts and won $14,125.
 The process of betting on this match was described by undercover agent Ghelaghutashvili: "On March 23 I went to Nakaidze's house at noon. Ioseb Gioshvili came a bit later. As the game started, somebody somewhere began to bet a huge amount of money. A total of $US95,000 was bet that more than 2.5 goals would be scored in the game. That brought the odds way down. When a goal was scored in the 22nd minute, Nakaidze decided that we should bet on less than 2.5 goals, because the odds were high. Nakaidze called Burjanadze at the stadium and said that we would pay 10,000 lari (about $US4,400). Giga told Omar that we had to add another 3,000 lari (about $US1,330). Giga said this money was needed to give to the Lazika players.
 "Then I spoke with Giga and agreed to pay a total of 13,000 lari (about $US5,730) if no more than 2 goals would be scored in the game. If that did not happen, Giga would have to pay 26,000 lari (about $US11,460). Giga agreed.
 "Lazika won 2-0. During the match Nakaidze and I made $US4,369 in bets from my betfair.com account and won $US7,975. In total there was $US12,344 accumulated in my account. From Omar's betfair.com account, we bet $US3,163  and won $US6,159.  There was $US9,313 in Omar's account. In total we won approximately $US14,000," testified Ghelaghutashvili.
Here's how the prosecutor described the communications: "During the match they had their representative at the stadium. He was in touch with members of this criminal group who were doing the betting. With a pre-arranged signal such as standing up from his seat, he was giving a sign that a goal should be scored. If he stood up a second time, a second goal should be scored."
"They talked about it like it was organized crime. One was fixing the games, the second was providing money, and the third was betting. Everyone was responsible for something. But the thing is that it is not proven by evidence. There is no proof that somebody bribed somebody or fixed something," claims Nakaidze's attorney Archil Shabashvili.
"There is even a phone recording where they say something and he (Nakaidze) answers that I am not even at the stadium. The goal was not supposed to be scored, they call and say that the goal was scored and it should not have been scored. So he says: 'I have no idea, I am not at the stadium.'
"There are nine volumes of documents and many computer disks, but there is no proof that a crime was committed."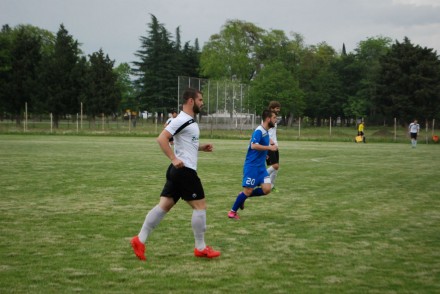 Match 3
FC STU Tbilisi vs. FC Chkherimela
The bet – FC STU Tbilisi wins
Final result – 3-0 win for STU Tbilisi
Amount of money bet – No bet was made
Amount of money won – No money was won
According to testimony from undercover agent Ghelaghutashvili: "FC STU Tbilisi president Otar Shengelia told me that he spoke with representatives of  FC Chkherimela and they agreed to fix the game for 10,000 lari (about $US4,400). However, they hadn't decided the exact bet, whether there should be 5 or 6 goals scored, etc. Maybe more money would be needed. I told  Shengelia that if 5 goals were scored I would pay 15,000 lari (about $US 6,667); if 6 I would pay 16,000 lari (about $US 7,110). If his team would just win the game by any score I would pay 12,000 lari (about $US 5,330) and if his team would win both the first half and second half, I would pay 14,000 lari (about $US 6,222).
"Shengelia agreed and told me that one hour before the game he will inform me by phone which result to bet on. He also made it clear that if 6 goals were to be scored, he would tell me that the dinner table would be ready at 6 o'clock; if 5 goals were to be scored, he would tell me that the table would be ready at 5 o'clock. If his team would win both halves, he would say the table would be ready at 2 o'clock, and if his team would win the game by any score, he would say the table would be ready at 1 o'clock. 
"Shengelia called me half an hour before the match and told me the table would be ready at 1 o'clock. That meant that the final agreement with FC Chkherimela had been reached and FC STU Tbilisi would win the match by any score."
The match ended 3-0 in favor of  STU Tbilisi. But according to the undercover agent, no bets were made on this match.
"The high-ranking officials of the Anti-Corruption Agency decided I should give Otar Shengelia 5,000 lari (about $US 2,200), a part of the promised 12,000 lari (about $US 5,330). I called Otar Shengelia, who told me that the table would be ready and that he would meet me in the Gldani district of Tbilisi. I met him and gave 5,000 lari, which he counted and then asked me when I was going to pay him the remaining 7,000 lari."
Shengelia's lawyer confirms his client took the money. But Davit Modebadze says he does not see any crime: "They tell him to win tomorrow's game. He replies that they are going to win in any case, because the opponent is weak. The aim is to win and not to lose. They give him money for winning the game. Yes, he took the money, but there is no crime there. Probably this action is not justified from a moral point of view,  but there is no evidence of crime in the case materials.
"The conversation was going on for more than one month with that law enforcer saying to Otar Shengelia: 'I will give you money if you win.' Otar was refusing for a long time. In the end he took money, but it does not mean that Otar Shengelia committed a crime."
Lawyers for the other defendants also argue their innocence. Gendzekhadze's lawyer Gocha Tediashvili says his client has been banned for life even though the lawyer says there is no evidence in the 3,179 pages of court documents and audio transcripts: "Ghelaghutashvili says that Gendzekhadze went and fixed three games. But whom did he give money, and how much? There is nothing about it. Nobody is even questioned.
 "There is always an offer from the prosecutor to somehow settle the case. But we are refusing. You have to confess, but to what? Sending Ghelaghutashvili undercover had one goal – he had to uncover something. But the fact is, he was betting himself. He pushed others to do it, and that is provoking a crime."
"They say it is a group crime, but many of the persons accused met each other for the first time when the first court hearing took place. They never knew each other," says Teimuraz Benidze, the lawyer for FC Chkherimela players Giorgi Goderidze and Teimuraz Sanikidze.
 Referees arrested
Modebadze was also the lawyer for Tornike Gvantseladze, a top Georgian referee certified by FIFA, the world soccer body. In September 2014, Gvantseladze was arrested for allegedly telling an undercover agent that he would ensure that there would be more than five throw-ins during a match and that the agent could bet on it. Seven other referees were arrested at the same time.
According to a prosecutor's statement: "An investigation established that the arrested made an agreement with people in advance on the number of red and yellow cards to be shown during a match, in return for a certain amount of cash ($US2,500 to $5,000). This enabled people to make bets on the number of cards which would be shown during a football match and thus win money."
 Modebadze also argues this client is innocent. "The undercover agent went to him and said that as a referee you have to make sure there are 6 throw-ins during this game, whether it is fair or not. In return this person would pay a certain amount of money. Gvantseladze said he had no will to do it. In that match there were 7 throw-ins. After this that person met Gvantseladze and gave him money. The banknotes had a special mark and the referee was arrested.
"As you know, a special group meets and discusses the work by referees in each match, and matches are monitored by special commissioners of the Football Federation. The commissioner gave the highest possible score for work done by Gvantseladze and said that all corner kicks and throw-ins were awarded fairly.
"Gvantseladze did not act as a true sportsman. It is not justified from a moral point of view. However, he didn't commit a crime."
The referees were convicted of illegally acquiring money in a group criminal operation. The sentence is 4-6 years, but all the referees were pardoned either by the Georgia Parole Authority or the President of Georgia.
In an interview with sports website sportall.ge , convicted referee Otar Khutadze said that for Second Division matches, referees are paid $US66 and linesmen and goal judges receive $US44.
 Fast postponement
In November 2015, a match between FC Kolkheti Khobi and FC Liakhvi Tskhinvali was postponed at the last minute. One of the Liakhvi players received a phone call offering him money for fixing the result. The player immediately informed club authorities, who passed the information to Georgian Football Federation.
Levan Kobiashvili arrived in the small town of Khobi on matchday. Just one month earlier, the former Georgian star, who returned to his country after playing top-division football in Germany, had been elected president of the Georgian Football Federation.
"There was information that something was happening there, or at least somebody was trying something," Kobiashvili said.  "I traveled there because I wanted to hear from the player himself what had happened. I spoke with him and he told me there was some kind of offer. I decided to postpone the game, because I thought there was a threat. It was a difficult decision, and I want to state very clearly the Football Federation will not be able to postpone matches after every such call."
 The Georgian Football Federation signed a memorandum of cooperation with the Ministry of Internal Affairs  to investigate fixes. The Federation has also created a new unit called the Division of Sport Fairness. "Of course, we are not an investigative organization," Kobiashvili admits. "But we will use whatever resources we have to uncover these crimes. It is not a topic on which we can speak very publicly how and by whom it is being done. If we do, it will be impossible to achieve any results."
Latest Fix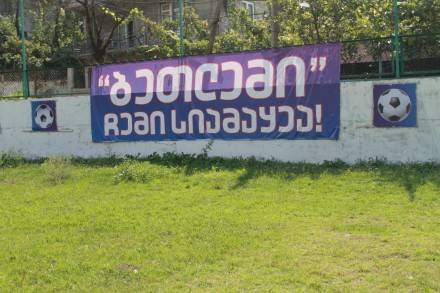 The Division of Sport Fairness was only two months old this May when it found its first case of match manipulation. After studying video of a match in which Kolkheti Khobi defeated Betlemi Qeda 4-1, the Federation's disciplinary commetee made a decision to ban from football-related activities for life four players and the assistant manager of Betlemi Keda, to relegate the club to Georgia's lowest league, and to fine the club 50,000 lari (about $US22,200).
A three-minute video clip of the match released by the Federation show players from both teams mostly standing around. Finally, the Betlemi goalkeeper, instead of kicking the ball downfield, passes it slowly to a nearby teammate and then walks away from the goal net. There is one more lazy pass to another Betlemi player, who then softly but deliberately kicks it into his own empty net. On the video, you can hear the cynical laughter of the few fans in attendance.
Undercover agent Ghelaghutashvili mentions FC Betlemi several times in his testimony: "We met several Betlemi players in a flat. They told us that a couple of days earlier, they lost $US90,000, but assured us that if we could agree on payment, they were ready to create any result we wanted. They also said that to achieve the desired result, they were even ready to score own goals."
 Ghelaghutashvili said that the Betlemi matches were not listed on the online gambling sites, so no bets were made. Nothing in the trial documents to date would explain how a group of small-town football players could collect $US90,000 to lose.
"It is easier to do such things in countries where there are problems, and certanly there are problems in Georgia — infrastructure, management, financial," Kobiashvili says. "It's less likely to happen in full stadiums. That is why most such crimes are committed in lower divisions." He says he was never approached to fix any of the more than 400 matches of First Division and Second Division football he played in Germany.
 Of course Kobiashvili was well-paid in Germany. According to one of the arrested players, FC Chkeherimela's Goderidze: "After I made the team, the club management gave me a Liberty Bank ATM card for my salary. The wage was 500 lari (about $US 222) per month. But I only got my salary three times in five months."
 UEFA was sent a list of questions on the match fix situation in Georgia. Here is the response:
"UEFA monitors all UEFA competition matches and the top two leagues in our 55-member associations (about 32,000 matches per season). In general terms, we do not give details on investigations unless a disciplinary case has been opened or a decision has officially been taken. Further information on UEFA's fight against match-fixing can be found on UEFA.org relevant section here: http://www.uefa.org/protecting-the-game/integrity/index.html  "
Soon the 2016-17 Georgia season will begin, and the tiny crowds will again watch every goal and too often wonder why it really happened.