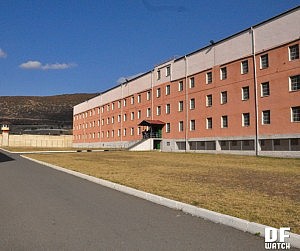 TBILISI, DFWatch–Six former guards at the notorious Penitentiary No 8 in Tbilisi have been detained for alleged torture of prisoners during the presidency of Mikheil Saakashvili.
Legal proceedings have been launched against former Head of Legal Regimen of the same facility, Oleg Patsatsia, currently under arrest, on the same charges.
Prosecutor's Office of Georgia released a statement on Thursday listing the grave accusations that Oleg Patsatsia and his subordinates engaged in torture, rape and degrading treatment on inmates in 2010 and 2011.
Penitentiary No 8 is located in Gldani on the outskirts of Tbilisi, therefore people used to call it 'Gldani Prison'. In the media, which at the time were supportive of Saakashvili, it was held forth as an example of humane prisoner treatment, but among the population it was notorious for outrageous treatment of inmates. As such, Gldani prison became emblematic of the way reforms were used as a 'facade' to hide serious problems.
In September 2012, just a month before the landmark parliamentary elections, the videotapes leaked depicting torture of inmates, including minors. These videos, shown by several TV channels and circulated by social media, triggered a massive of popular outcry and, as many commentators argue, swayed public opinion against Mikheil Saakashvili's United National Movement, which then lost the elections.
A number of penitentiary officials and guards have been tried for torture and inhumane treatment of prisoners since then, including Oleg Patsatsia.
According to the prosecutors, the seven who are charged 'indiscriminately and violently mistreated the prisoners, verbally and physically abused them upon their arrival at Penitentiary No 8, and during the following period, these prisoners were repeatedly abused in order to achieve their unconditional obedience.'
"The investigation also established that the defendants would often take prisoners out of their cells arbitrarily and move them to the bath situated in the building of the facility, where they would physically abuse them by using bludgeons and other objects. Moreover, to cause the moral anguish of the inmates, they were placed in the penitentiary morgue with deceased persons and left there locked up for a certain period."
The POG states that up to 600 former and current inmates have been interrogated and the vast majority of them claimed to be victims of abuse. Oleg Patsatsia's involvement in the abuse has been confirmed by 200 inmates, another detainee, Malkhaz Ghviniashvili, a.k.a. 'the Fascist' was indicated by over 100 inmates, while the other three were accused by 'tens of witnesses'.
If convicted, the detainees may be sentenced to up to six years in prison.