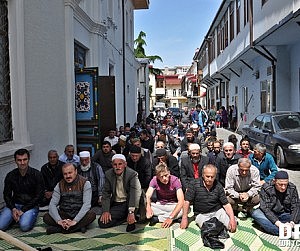 TBILISI, DFWatch–The city hall in Georgia's second largest city Batumi has rejected an application for permission to build a second mosque in the 150,000 strong city.
In the largely Muslim city there has been a several decades long conflict about whether to allow a second mosque. The existing mosque, Orta Jame, does not have enough space during prayer times.
As previously reported by DFWatch, the overcrowding in Orta Jame is often so great that people are forced to sit outside in the street during Friday prayer (see our photo gallery).
But the situation seemed to move closer to a solution when the Muslims purchased a plot of land in September, 2016.
The refusal by Batumi City Hall came like a bombshell.
"The state's refusal to permit building [a mosque] is discriminatory and carries anti-Islamic connotations," Tariel Nakaidze, chairman of Georgian Muslims Union wrote on Facebook.