TBILISI, DFWatch–Police in Georgia have detained a former deputy prosecutor and charged him with participating in filming videos of staged torture at a prison in Tbilisi.
The Prosecutor's Office charges Davit Chkhatarashvili, the former first deputy of ex-Chief Prosecutor Murtaz Zodelava, for abuse of powers and organizing humiliating treatment and mistreatment, as well as falsification of evidence, in connection with a prison torture scandal that caused massive protests before the 2012 parliamentary election.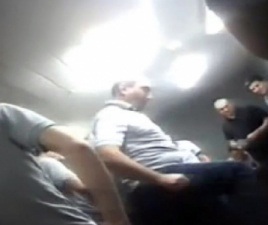 Investigators say former Justice Minister Zurab Adeishvili and Chkhatarashvili in September 2012 learned about the existence of video footage shot in Prison No 8 in Gldani, Tbilisi, which showed physical abuse of prisoners. The minister instructed Chkhatarashvili and other government officials to make a video of beating and humiliation of prior selected prisoners at the same prison. The goal was to publish it in order to give the impression that government bodies were revealing incidents of beating and torture in Georgian prisons.
The Prosecutor's Office claims Chkhatarashvili was the organizer of staging and shooting process of false video, the office's spokesperson Davit Kvinikadze said at a televised briefing Saturday afternoon.
Kvinikadze said the investigation is continuing in order to identify other persons involved.
Two weeks before the parliamentary election in October 2012, a handful of videos were made available to the media showing physical, verbal and sexual abuse of prisoners.
Earlier the same day, September 19, the Interior Ministry posted videos of torture at Gldani prison. The government claimed that the opposition had staged those videos in order to discredit the government before the election.
Releasing the videos was followed by large street protests which lasted several weeks. The interior minister and prison minister resigned.