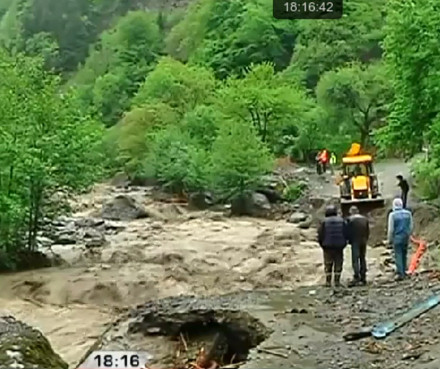 TBILISI, DFWatch–A rain-swelled river on Thursday cut off the only road to five villages in the northern part of Georgia, leaving the inhabitants isolated from the rest of the world.
The river Vedura swelled after several days of hard rain in the Upper Svaneti region.
As the river ran wild it smashed a road and several bridges connecting the villages Naki, Tsvirmindi, Nankbuli, Zemo Vedi and Kvemo Vedi to the outside world.
Children from these villages are now unable to attend classes, and it has become impossible for ambulances to reach the villages, Channel 1 reported, based on accounts by locals.
The strong rain caused damage in the neighboring Racha-Lechkhumi region as well.
Local authorities claim work is underway to clear the roads and restore traffic to the isolated villages.
No casualties or injuries have been reported.