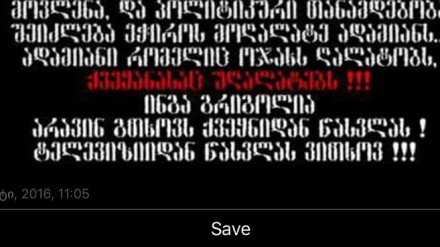 TBILISI, DFWatch–One more sex tape was uploaded to Youtube on Thursday, targeting a Georgian politician.
The video was posted on the personal Facebook pages of a journalist and an actor and later removed.
The police questioned actor Beso Zanguri. Journalist Maka Razmadze wrote on her Facebook that she has also been asked to come to the Prosecutor General's Office.
DFWatch wasn't able to get comments from the Prosecutor General's Office, which has not yet commented on the latest sex tape.
Journalist Maka Razmadze says that a video was posted to her Facebook page under almost every photo and post at 6:00 in the morning.
She said that the video was posted by a Facebook user registered with the name and surname of the politician who is shown in the tape.
"As we are aware, two people were arrested, but the videos are uploaded to the Internet in the same way as before. This new video had an announcement about who will be in the next tapes published," she said.
One of the targets of this is again journalist Inga Grigolia. She uploaded a screenshot of the video on her Facebook page. The message says she must quit her job at the television company.
Sex tapes targeting female politicians were uploaded to Youtube on March 11 and March 14. The latest tape carried a note in the beginning, threatening named politicians and calling on them to resign before March 31, otherwise new videos would be posted on the Internet.
Several names were listed in the video, and one of them was journalist Inga Grigolia. In her talkshow, Grigolia refused to comply with the demands in the video.
On March 11, the Prosecutor General's Office launched an investigation about illegally obtaining and spreading videos of private life, under article 157 of the Criminal Code, which may be punished with up to three years in prison.
Five people have been charged for keeping and spreading the sex videos. During Saakashvili's presidency, intelligence service used to covertly film potential troublemakers during sex acts in order to use the recordings for political blackmail at a later time. Although the Georgian Dream government officially destroyed the 'dirty archive', someone must have succeeded in 'exporting' the tapes during the 25 days transition period after Saakashvili's National Movement lost the election in 2012, deputy chief of counterintelligence Levan Izoria told parliament this week.