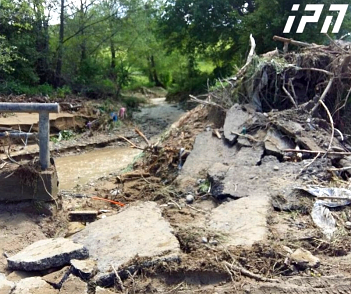 TBILISI, DFWatch–A historical park in the southern Georgian resort town Borjomi was partly destroyed by flooding Thursday evening.
Strong rain flooded houses and streets and trees more than a hundred years old were torn down. Infrastructure was damaged.
The park in the place where the Borjomi mineral water origniates was evacuated due to the heavy downpour.
The government is now assessing the cost of the damage. The park has been closed since Friday morning. Clean-up work is in progress. Mindia Janelidze, who chairs the Crisis Management Council, said the park will only be partly open at the end of the day.
Apart from Borjomi park, there was also damage in the villages Tsemi, Bakuriani, Sadgeri and Tba. The news portal Samkhretis Karibche posted a video where a group of people are inside a house, frantically trying to shut out the floodwater which is pushing through the door.
Several power  transmission poles were damaged in the region and several thousands of households are without electricity.