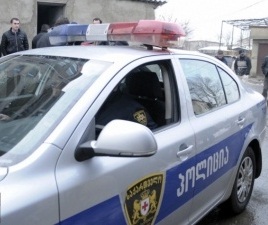 TBILISI, DFWatch–In a small town in the south of Georgia, a disagreement between two politicians' families resulted in the death of a 23-year-old man on July 30.
The confrontation took place in the village Nardevani, in the Kvemo Kartli region. The families Tamarian and Meltonian live in Tsalka, 20km away.
Each side tells a different version of the events that day, and there are many open questions. What is known is that shots were fired between members of each family, and that one 23-year-old man died.
The heads of both families are well-known people: Samson Tamarian is head of the finance and budget committee in the local council, while Haik Meltonian was a member of parliament from 2004 to 2008.
According to members of the Meltonian family, the conflict started when Samson Tamarian ran into the son of Haik Meltonian with his car and left him there. When Meltonian and his nephew came to take the injured man home, the son of Samson Tamarian shot in their direction, as a result of which the nephew of Haik Meltonian died. Meltonian also shot and injured the brother of Samson Tamarian, as this side's version of events goes.
But Mukhran Ghurtskaia, a lawyer for the Tamarian family, denies that Tamarian hit Meltonian's son with his car, and that the latter in fact cannot remember how he got his injuries and denies that there was a conflict prior to the shooting. The lawyer claims Tamarian junior was defending himself when he shot and killed Meltonian's nephew.
There are reports that Samson Tamarian and his family have left the village, but according to MIA, law enforcement officers are still in the area in order to ensure the safety of locals and prevent further conflict.
The ministry has so far not shared further details, which leaves open question about, did Tamarian indeed hit Meltonian's son with his car and were the weapons used in the shooting legally registered?
The case is being investigated as premeditated murder and premeditated murder attempt, the ministry said.