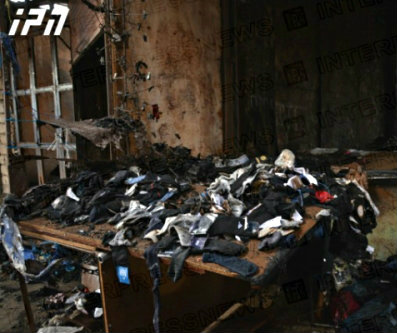 TBILISI, DFWatch–A fire destroyed the 'gypsy market' in Tbilisi on Tuesday. Vendors claim the fire was started deliberately.
About 2500 square meters was burned. Vendors say they think the fire was started in order to get rid of them and build a supermarket.
The fire started Tuesday morning and spread to the roofs of several nearby houses.
Director of the market area Spartak Chaladze told journalists that he doesn't think the fire was started deliberately, but he doesn't exclude anything. He thinks the cause of the fire should be investigated.
Fire fighters managed to contain the fire in the morning, which averted the threat of the fire spreading to more houses.
Some of the vendors say they think the fire was started deliberately, as it was planned to sell the place and construct apartments and a supermarket there instead.
Some of them say their losses were about USD 30,000 as a result of the fire and most of them have bank loans to pay and demand a compensation. Some of them said they can't even recognize the ashes that are left from the products they were selling, even though they contained metal.
Vendors are confused, as they don't know what the government will offer them, but they know from tomorrow they will start placing new counters and for two weeks they will be allowed to trade without paying taxes unless the place is restored.
Mayor of Tbilisi Davit Narmania came to the burnt out market on Tuesday and said that the amount of money which the city administration will pay to them will be determined on an individual basis and the regional municipality will mediate in the process to help them, based on agreement.
He said that the government will also assist the company in refurbishing the damaged area.
City Hall will mend roofs for the families whose houses were damaged by the fire.
The so-called 'gypsy market' got its name long ago when it was used mainly by Roma people, but is today a general street market not affiliated particularly with Roma.