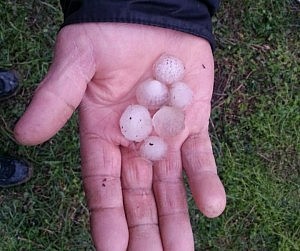 Tbilisi, DFWatch – Strong hail affected parts of Kakheti and Shida Kartli yesterday, destroying early crops in a number of villages.
Villages in Gurjaani and Kvareli regions of Kakheti suffered most, where the hail damaged several hectares of vineyards and crops. The anti-hail system provided by the company Delta will be implemented towards the end of the month and wasn't used at the time of the calamity.
The hail in Gori region of Shida Kartli lasted only for twenty minutes, yet seriously damaged vineyards, fruit trees, and crops in the villages of Dzevera and Kveshi.
Local authorities declared that the extent of help provided to the affected population will be decided after the damage assessment.
Hail storms annually affect crop production in Georgia, especially in the east of the country. In August 2015, strong hail destroyed 2 thousand hectares of vineyards in Kakheti. Similar occurrences happened in July 2015, April 2013, and August 2012.
The income of many households in Kakheti depends entirely on agriculture.