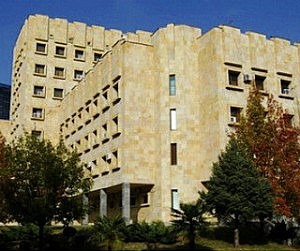 Tbilisi, DFWatch – Prosecutor's Office of Georgia Thursday charged two former officials with torture and property appropriation of a businessman, who was murdered later.
Aleksandre Mukhadze, former director of notorious Gldani's No 8 Prison and Gori Military Hospital, and Giorgi (Gia) Udesiani, former Deputy Culture Minister, are charged for torture of Besik Khardziani, an owner of a restaurant and some other facilities at the Turtle Lake in upscale Tbilisi suburb, and forcing him to property concession.
Statement of the Prosecutor's Office reads that Udesiani ordered his friend Mukhadze to force the businessman to give up his and his family members' shares in business and transfer them to Udesiani in 2011. At that time both, Mukhadze and Udesiani, where active members of ruling United National Movement, while Khardziani was serving his jail term in Gldani prison for a drug crime.
"In order to execute the assignment, Aleksandre Mukhadze ordered to place two inmates, administration trustees, in Besarion Khardziani's cell. The inmates had an assignment given directly by Aleksandre Mukhadze to force Besarion Khardziani to give up the shares of Turtle Lake Kala Ltd and Turtle Lake Palace Ltd using any kind of methods.
"The mentioned persons have carried out psychological and physical pressure over Besarion Khardziani for two weeks on an intensive basis. They were beating him, forcing him to give up the shares in favor of Giorgi Udesiani. The fact was also contributed by the prison staff according to Aleksandre Mukhadze's instructions.
"Under extreme pressure Besarion Khardziani agreed to re-register his own restaurant, though as aim of Besarion Khardziani's torture was concession of business shares and not concession of the restaurant, the administrative trustee refused to accept the restaurant and requested the re-registration of Besarion Khardziani's business shares in favor of Giorgi Udesiani according to Aleksandre Mukhadze's assignment. Also, the administration trustee threatened Besarion Khardziani to rape him in case of his disobedience," statement of the Prosecutor Office reads.
Udesiani and Mukhadze face up to fifteen years in prison. Both left Georgia after Mikheil Saakashvili's party lost elections in 2012.
Khardziani was pardoned in 2013 and began litigation against Udesiani for his shares in Turtle Lake  Ltds, and was murdered soon after victory in the court on March 28 of 2015 in Tbilisi. His family members  believe his murder was ordered by Udesiani. According to Prosecutor's Office and Interior Ministry, Khardziani was murdered by two – Oleksander Dametov, 30, citizen of Ukraine and Oleg Doyev, 42, citizen of Russian Federation.
Giorgi Udesiani used to be Deputy Culture Minister from 2007 to 2008. Earlier he worked as a chair of Sports Department at Tbilisi City Hall.
Udesiani attracted interest of media during London Olympics in 2012, when judokas Ambako Avaliani and Betkil Shukvani accused him for pressure and threats. Udesiani was a Presidentg of the Shooting Federation.
In January 8, 2014 Prosecutor's Office charged Mukhadze with abusing power for torturing of an inmate. Gldani prison under his leadership was notorious for torture and abuse of prisoners.