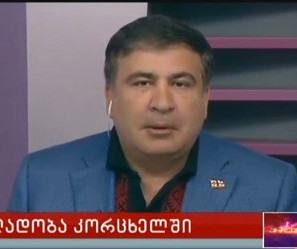 TBILISI, DFWatch–An audio tape was published Tuesday which appear to capture a conversation between former President Mikheil Saakashvili and other UNM party members plotting a revolution in Georgia.
The tape was uploaded to Youtube by a user called Creative Georgia News. The video's descriptions says it's a conversation between former President Mikheil Saakashvili and members of his party discussing a revolution scenario.
In the recording, Saakashvili can be heard saying that Giga Bokeria believes a revolution would be correct but that it won't happen and they have to get ready for coalitions, but Saakashvili doesn't agree with him.
"Those who want to get ready for coalitions, let them. I have no intention of that, I don't fight for that," Saakashvili says in the tape, adding that "Rustavi 2 will contribute to this peak," a reference to the Georgian television channel loyal to him.
Gigi Tsereteli, another UNM member, says that the goal now is to hold the election on the background of a revolutionary environment, while Akaki Bobokhidze suggests bringing tents to Tbilisi's main street Rustaveli.
"200 people will fill Rustaveli with tents. We have to count the finances well. If a person costs 10 laris a day, how much will 2-3 months long rally with tents cost?," Bobokhidze asks.
The authenticity of the tape is not yet established. Members of UNM claim that such a conversation never existed and that it is fabricated by the State Security Service.
Bobokhidze claims that the tape is edited because he hasn't spoken with Saakashvili for the past year and the members of UNM mentioned in the tape haven't left the country together.
Saakashvili says the tape is a 'clumsy montage'. He wrote on Facebook that through the montage, the government wants to avoid 'inevitable defeat'.
"He won't be able to trick our people like this," he writes, referring to Bidzina Ivanishvili, the businessman who many believe controls the government.