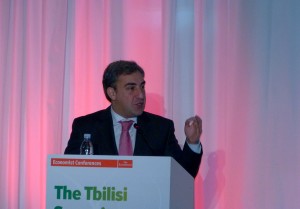 TBILISI, DFWatch – Georgia's Prime Minister Nika Gilauri thinks that under today's conditions, Georgia doesn't need to be integrated with the European Union.
There are negotiations with the EU now about a free trade agreement, and Georgia 'is hoping for visa liberalization agreement and free trade agreement'.
"For now EU is not ready to accept new members. But the EU integration is on the agenda of long term goals for Georgia," he said.
The prime minister's remarks fell during a conference about policy measures for creating a better business environment in the country, during a conference organized by British magazine The Economist in Tbilisi on November 17.
The minister spoke about the successful reforms implemented since 2003. According to him, the most important, successful but hard reform to implement was the fight against corruption. Then came education reform and other reforms.
Today the country's first priority in terms of reforms is a pension and healthcare reform, the PM claimed. During the discussion both he, the minister of economy and other Georgian speakers mentioned that in the agricultural sector Georgia is becoming more and more attractive to foreign investors and they called for business to come and invest in this market.
Gilauri was asked, if Georgia is an agricultural nation, then why are the unemployment rates particularly high in the country's rural regions?
The minister explained this with a lack of modern technology in agriculture, adding that such technology has been introduced only over the last two to three years.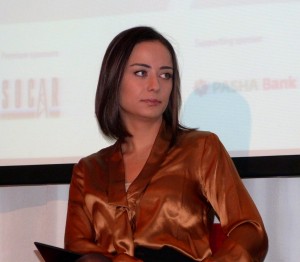 The economy minister Vera Kobalia (left) talked about the importance of tourism environment in Georgia, something which is developing now. During the conference she said the construction of a new airport terminal in Kutaisi in west Georgia will start at the end of November.
She also underlined how important it is to Georgia to boost the agricultural sector.
Other speakers included Neil Dunn, General Manager at BP Georgia and Khater Massaad, Chief Executive Officer  of the Ras Al Khaimah Investment Authority. They discussed Georgia's location as a point of transit, particularly when it comes to the Baku-Tbilisi-Erzerum gas pipeline and the Kars-Tbilisi-Baku railway.
Giorgi Kavelashvili, Deputy Minister of Energy and Natural Resources made a short presentation about Georgia's hydropower potential and in terms of development Georgia soon will be able to export energy, and the priority country for this export is Turkey. Kavelashvili noted that there is a deficit of electricity in Turkey. Most of the 39 contracts signed by Georgia in the hydropower sector are export oriented.
(Pictured top: Nika Gilauri. Bottom: Vera Kobalia. Photo: Mari Nikuradze.)