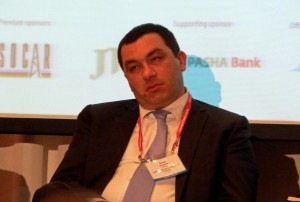 TBILISI, DFWatch – Russia's embargo has made Georgia seek out new markets thereby making the country more independent, Giga Bokeria, secretary of Georgia's national security council, said on Thursday.
Bokeria said this during a conference organized by the British magazine The Economist in Tbilisi. He was responding to a statement by opposition politician Irakli Alasania, who noted that the Georgian government isn't capable of mending relations with its northern neighbor and is scaring off investors by on the one hand inviting them to come, but on the other talking about a lingering threat of Russian intervention.
According to Alasania, export of Georgian goods to Russia used to be 18% and now it's about 2%. But at the same time, despite Russia's invasion, economic interests still exist.
During the conference, the Free Democrats leader said that there is a contradiction between the message the government is sending foreign investors.
"On the one hand we are a tourism country and asking global companies to invest in Georgia, and this is precisely what should we be doing and will do in future. But on the other hand, there is a message coming from government officials, blasting the Russian political elite or leadership, sending a wrong message to the investors, making them scared that there is a Russian threat and Georgian security is really under attack," he said, adding that investors getting scared has caused a drop in Western investments in Georgia.
But there is no contradiction, and the threat exists, Bokeria responded, and as for the Russian market, Georgia lost this, 'but gained independence'.
Also other speakers at Thursday's conference mentioned that Georgia has become more independent in terms of export. Georgia exports goods to Turkey, China, USA, Russia, European countries and speakers agreed it is no longer dependent on only one market.
This part of the conference saw speeches by Irakli Alasania, Free Democrats leader; Tom de Waal, Senior Associate at the Carnegie Endowment and Andrei Ilarionov, Former advisor of Vladimir Putin in economic issues, in addition to Bokeria. The discussion afterwards touched on a number of issues.
Giorgi Bokeria discussed Russia's WTO membership. He thinks that it's good news for everyone, and Georgia got an international system for monitoring all goods moving into Georgia's occupied and non-occupied territories. Russia's WTO membership is a benefit for the world economy, but not for Georgia-Russian relations, and it has no influence on Georgian economy, the security council secretary said.
According to him, ten years ago Georgia was completely dependent on Russia in terms of export and energy, but this has changed.
"The Russian factor is dominating the country's national security and it's the biggest challenge for Georgia," he said, adding that renewed conflict between the Russia and Georgia is unlikely, but at the same time, there is no progress in their relations.
Bokeria remarks that there is a simplified visa-regime for all Russian citizens even after the war in 2008.
Irakli Alasania also thinks that the decision of Russia's WTO membership is a positive step. Normalizing relations with Russia is very important for the Georgia today.
"I'm convinced that unfortunately the current government doesn't have enough tools or resources to change the system of the relationship between Russia and Georgia," he says.
Tom de Waal also discussed the importance of the Russia-Georgia relationship. He said Georgia is not a priority for Russia but it's important for them not to spoil relations with Georgia.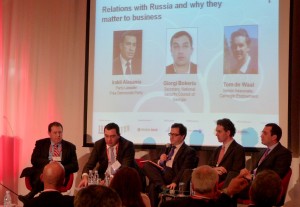 He spoke about two aspects concerning Georgia – one positive and one negative. First one is 'non-Russia' state building, which are to cut down on corruption, progress with the EU about free trade and other things. He says that Georgian priorities should be non-Russia and not anti-Russia state building. The negative is monopolized media ownership; it's a lack of transparency in terms of economic ownership.
Alasania also mentioned problems of media and transparency in media ownership, to which Giga Bokeria responded by reminding him of the fact that as a result of recent discussions, changes were made to the law and soon it will become transparent where and in whose name media units are registered.
In his short speech Andrei  Ilarionov talked about the term 'Russia-Georgia war' which was used many times during the conference. He thinks that it's a correct to use this term. He said that 'Russia had been preparing the war of 2008 for 9 years by Mr Putin, since 1999,' and that it was in a cold phase before 2008, when it became warm.
"Relations between Georgia and Russia are completely dependent on the decisions of the Russian regime. The decisions are made by the Russian regime and actually by one person, and the Russian regime is quite personalized," he said, adding that the decisions depend on 'Putinology'.
(Pictured at top: Giga Bokeria. Bottom: (from left) Andrei Iliarionov, Giga Bokeria, moderator, Tom de Waal and Irakli Alasania. Photo: Mari Nikuradze.)