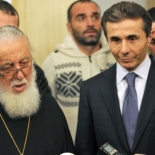 TBILISI, DFWatch – It was a moment heavy with symbolism when Georgian businessman Bidzina Ivanishvili and Patriarch Ilia II emerged from their meeting Tuesday.
"We are pleased that Ivanishvili visited the Antioch today. We have discussed a number of issues, especially the future of Georgia and its current condition. I think everything will be all right," Georgian Catholicos-Patriarch his Holiness and Beatitude Illia II stated after the one hour meeting.
Ivanishvili said it had been one of the happiest days in his life.
"I have met with his Holiness for several times. Today has been a very interesting meeting. I received a number of advice from him, which I will take note of and which will help me in my future activities," Ivanishvili said.
By most accounts he looks set to be the next leader of Georgia, if he is allowed to engage in politics, but his progress is blocked by a presidential decree which stripped him of his citizenship.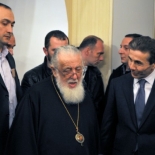 A campaign was launched in support for his attempt to get it back, and last Sunday in his sermon the patriarch made it clear he also sees it as Ivanishvili's clear right to be recognized as a Georgian citizen.
It had been known for nearly ten days that the patriarch was going to meet the billionaire, after Ivanishvili mentioned it in an interview with the newspaper Kviris Palitra. Date was not set, and Ivanishvili's press office stated that he was waiting for an invitation from the patriarch.
The meeting is significant because the patriarch has great authority in Georgian society, and people had been eager to hear what statements would be made afterwards.
The billionaire businessman and longstanding philanthropist had his Georgian citizenship revoked four days after he declared that he was entering politics on October 7. Here in Tbilisi his citizenship termination is seen as a political game, because due to Georgian legislation, a person without citizenship cannot be involved in or finance political activities.
Political forces and public figures demand to restore his citizenship and signatures have been collected from politicians and ordinary people.
Ivanishvili's citizenship was officially terminated on October 11, 2011, by a presidential decree. For a month the president didn't mention it in any of his speeches. According to Georgian legislation, granting citizenship is something only the president can do.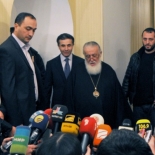 The government has not commented. Parliament's speaker, the second person in the government, according to the constitution, also refrained from making a comment.
The format of the meeting is not known. A spokesperson for Ivanishvili's press office told DFWatch that no comment would be made after the meeting and that journalist's wouldn't have the opportunity to broadcast the meeting.
Despite this, comments were made afterwards. Though brief, the statements made it clear that the patriarch gave advice to Ivanishvili regarding political events, and that Ivanishvili says he will take the advice with him as he continues.