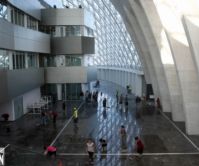 TBILISI, DFWatch–The Georgian parliament building in Kutaisi was evacuated Friday due to a bomb threat.
Parliament Speaker Davit Usupashvili appealed to lawmakers to leave the building, despite the fact that a bomb threat earlier this year turned out to be false.
After the building was emptied, bomb experts were working to clear the premises.