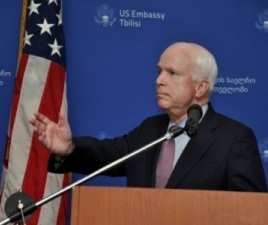 Tbilisi, DFWatch – Before the America's president-elect Donald Trump takes the oath of the office, a leading Republican Senator,   Armed Services Committee Chairman John McCain, and his fellow party member Lindsey Olin Graham will lead a congressional delegation to Ukraine, Georgia and Estonia January to push back against Trump on Russia policy.
The aim of the visit is to assure Eastern European partners that Washington is still committed to confronting Russian aggression, Washington Post reports.
"My view has not changed even though Trump won. [The Russians] are a bad actor in the world, they need to be reined in. He's the commander in chief but Congress does have a say and a role in all this," Graham was quoted as saying.
Starting in January, the pair will hold a series of hearings highlighting Russia's transgressions around the world, including alleged war crimes in Syria, cyber-attacks, propaganda campaigns and threats to Baltic States.