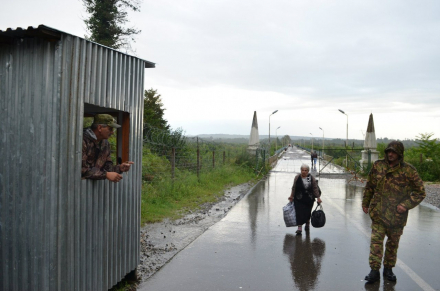 GALI, DFWatch – The loss of sources of income related to the spread of deadly brown marmorated stink bug (BMSB), which has devastated locals' orchards, urges residents of Gali to return to illegal business of smuggling goods, particularly cigarettes, from the breakaway Abkhazia to Georgia proper.
This illegal trade used to be rife in late 1990s and early 2000s but had almost entirely been suppressed by mid 2000s. Now it seems to be on rise again, due to dire hardship of Gali population.
"Formerly many people were busy with this business, but most of them were forced to suspend these kind of activities due to the fear of arrest and high fines. Today, some of them return to this job. The reason is hardship. All revenues for locals have actually disappeared, while cigarette [smuggling] leaves quite a big profits. On the other hand, stakes are high – smuggling of only one pack of cigarettes gives a gain of at least 1,5 lari ($0.57), that's urge people to risk," said a Gali resident to DFWatch.
The risks, meantime, are really high as police and customs officials are very active on the Georgian side, which renders this kind of business effectively pitch-and-toss, he said.
"If you cross the [Enguri] bridge, everyone is being checked. If you've ever been caught, there is barely another chance. People resort to different methods in order to evade the arrest. If detained, the fine depends on the amount of cigarettes smuggled. The punishment is decided by the court [in Zugdidi]. Sometimes [the judge] rules leniently, taking into account the context, but sometimes punishment is quite harsh," he said.
One of the detainees, the mother of three, said that the court even dismissed her without a fine altogether.
"I am the mother of three. All the burden to run household lies on me. We had hazelnuts as the sole source of income in the village and now it's ruined. There is nothing else here, so when the kids had a time to start schooling, I couldn't find another way to address this," she said, adding that she decided to smuggle very small amount of cigarettes calculating her profit at about 20 laris ($7.5).
"I only wanted to buy something new for my kids for school. We all know how happy the kids are going to school in new garments on September 1.
"I honestly told everything these to the judge, which took my situation into consideration. Otherwise, a fine of 1,000 lari ($377) was awaiting me, which I didn't know how to handle. I was under fear and stress. No one is pleased to do this [business]," a 29 y/o woman who made it out of the situation without being fined, said to DFWatch.
Local officials are also implicated in this business, people in Gali familiar with the situation say. Georgian police treat people caught in smuggling rudely, they add.
On the other hand, Abkhaz customs officials demand bribes in order to permit passage through Enguri bridge.
By Georgian law a person caught first time with smuggling goods face confiscation of product and a fine, which varies from 1,000 to 2,000 lari ($754). If the individual is being caught the second time, the fine rises to 10,000 lari ($3,770). He/she may face also administrative imprisonment for 15 days.