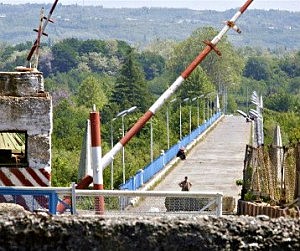 TBILISI, DFWatch–Georgia demanded the handover of a suspected murderer during a six hour meeting with breakaway authorities in Abkhazia this week.
The meeting was held in Gali, in the southern end of the region, and dealt first and foremost with the fate of Rashid Kanciogli, the border guard suspected of fatally shooting a Georgian mann, Giga Otkhozoria, on May 19.
"Extensive efforts were given to find a way to bring to justice the suspected perpetrator of the tragic case," EUMM said in a statement.
Alleged border violations and criminal activities were also discussed at the meeting of the Incident Prevention and Response Mechanism (IPRM), which are regular field meetings created in the wake of the 2008 Russia-Georgia war which are co-hosted by the EU and OSCE and aimed at solving practical problems between the sides in the conflicts.
Kakhaber Kemoklidze, head of the Georgian delegation, said there was also discussion about the health condition of Georgians who are in prison in Abkhazia. A further topic was missing persons.
Agreement was reached about free movement of students from Gali to Georgia-controlled territory in order to pursue education, Kemoklidze revealed.
"Naturally, we will follow this process, and we hope that local students never encounter these problems," he said. "The representatives of the de facto authorities have stated that this problem will be removed from the agenda.
There have only been held 40 IPRM meetings regarding Abkhazia, compared to 70 such talks about South Ossetia, because the former head of EU's monitoring mission, called EUMM, made a controversial statement which led to a temporary boycott of further talks by the breakaway Abkhaz side.
The next IPRM meeting in Gali will be held on November 11.