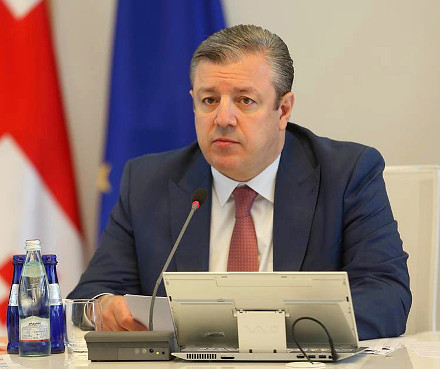 TBILISI, DFWatch–Georgia's head of government Thursday denied that his country's authorities had been involved when a journalist was abducted three days earlier in Tbilisi and delivered into the hands of Azerbaijani police for criminal prosecution.
"I rule out that the state structures are involved," Prime Minister of Georgia Giorgi Kvirikashvili said at a government meeting on Thursday.
It sparked outrage in Georgia when it became known that an Azerbaijani journalist and a known critic of President Ilham Aliyev was abducted in Tbilisi Monday night and reappeared in a prison in Baku the next day.
Rights advocates immediately accused the Georgian Dream government of involvement, but the PM rejected this as attempts to discredit state institutions.
"I understand very well the concerns of people and the NGO sector working in the field of human rights, but I would like to say that the preliminary conclusions are unacceptable, it is unacceptable to discredit [state security] institutions.
"I call on law enforcers to investigate this issue in the shortest possible time," Kvirikashvili said, describing criticism toward Georgian police and intelligence as 'speculations'.
Afgan Mukhtarli, an Azerbaijani investigative journalist known for his unrelenting criticism of Ilham Aliyev's authoritarian rule, was abducted by unknown men in Tbilisi where he had lived since 2015. The next day he turned up in a Baku prison and was charged with illegally crossing the border.
Speaking through his lawyer, Mukhtarli insisted that the kidnappers were Georgians, presumably members of the intelligence services, who acted in concert with Azerbaijani law enforcers.
The case has caused a public outcry in Georgia where it is believed that Georgian authorities, once again, bowed to illegal claims of its autocrat neighbors.
A week ago, Georgia detained a manager at an educational institution associated with Turkish preacher Gülen, President Erdogan's blood fiend, just a day after a visit of Turkish PM Binali Yıldırım to Georgia. A court later placed the school manager in pre-trial detention.
Georgian authorities also seemed to bow to pressure from Ankara in February when authorities suspended the accreditation of a private school in Batumi with links to Gülen.