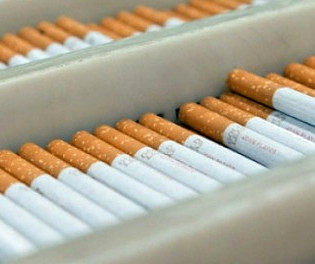 TBILISI, DFWatch–The parliament in Georgia Monday rejected a bill to bring in stricter control of tobacco products.
Resistance to the bill within the governing coalition proved too strong, as opponents believe it will create problems for business.
Lela Sturua, spokesperson for National Center for Disease Control, told DFWatch that the government disliked the amendments which would prohibit smoking at restaurants and force all facilities to allocate a smoking area by 2018.
There would also be an amendment to the law on advertising, prohibiting all commercials for tobacco products.
The bill would 'radically' increase the fine for smoking in a prohibited area. The fine for this is currently 20 laris.
It suggested strengthening the enforcement mechanism. The Health Ministry's regulating body would be responsible for monitoring offenses under its area of responsibility, whic restaurants, cafes and other places would be under supervision of other ministries.
In 2013, then Prime Minister Bidzina Ivanishvili, who put together the ruling Georgian Dream coalition, introduced a 5-year action plan, bringing in stricter control with tobacco products. However, for the past three years nothing has changed.
Sturua told DFWatch that the regulations would only have become stricter if parliament had passed the amendments, because the current regulations lack an enforcement mechanism.
Ivanishvili presented statistics showing that tobacco kills about 6 million people annually, 600,000 of whom die from second-hand smoke. 1.2 billion people are addicted to smoking. In Georgia, according to the World Health Organization (WHO), 9,000-11,000 people die from smoking each year.
A survey conducted by WHO in 2010 showed that 30.3 percent of Georgians smoke (55.5 percent of men, 4.8 percent of women).
Read more: https://dfwatch.net/georgia-plans-total-ban-on-tobacco-ads-other-strict-measures-41952