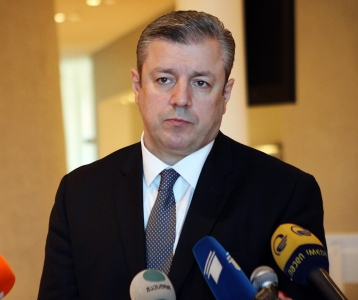 TBILISI, DFWatch–Prime Minister Giorgi Kvirikashvili spoke by phone with his Turkish colleague Binali Yıldırım on Monday, and both confirmed that Kvirikashvili will visit Ankara for the first session of the Georgia-Turkey strategic partnership council on July 19.
Kvirikashvili extended his condolences to the people who 'sacrificed their lives to protect democracy' in Turkey in the July 15 coup attempt, the government office said. He hoped for peace and stability for the Turkish government.
The Georgian PM underlined that a strong and democratic Turkey is important for the development and stability of the region and he expressed support for the democratically elected government of Turkey.
Yıldırım underlined that the situation has been normalized now in Turkey and cooperation with Georgia will continue in every area.
Meanwhile, the Georgian government said Sunday that all its citizens who have been stuck in Turkey as result of the coup attempt have now returned.
Atlas Global carried out an additional flight, which landed in Tbilisi airport at 9.30pm.
"153 passengers, including 4 newborns, were onboard the plane. Turkish Airlines also carried out an additional flight from Istanbul. 141 passengers were onboard the plane, which landed at Tbilisi International Airport at 6.45pm. All passengers who were left [behind] at Turkish airports due to recent developments in our neighboring state are now in Georgia," the government informs.
Georgian nationals undertaking transit flights to various countries are waiting for their turn, the statement continues.
"Members of the children's folk ensemble 'Qartuli Geni' have safely departed for Georgia. Due to the developments in Turkey, their bus had previously stopped at a distance of 60 kilometers from Istanbul," the statement released Sunday evening reads.
Restrictions at the border crossings which were introduced to protect Georgian nationals have been removed since 4.00pm on Sunday and uninterrupted movement of Georgian citizens in the direction of Turkey is possible via land and sea borders, as well as through air travel.
Customs checkpoints near the Turkish-Georgian border are operating normally and the handling of passengers and cargo to Europe is uninterrupted.