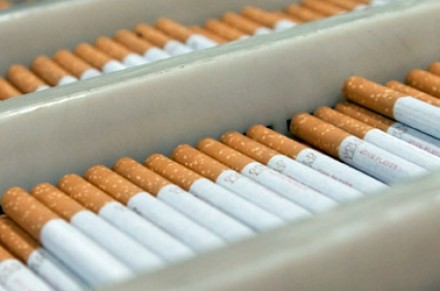 TBILISI, DFWatch–The government in Georgia is preparing an anti-smoking bill. It is not yet known when the law will come into force.
Amiran Gamkrelidze, head of the National Center for Disease Control, says he hopes that the new regulations will come into force from fall.
He told DFWatch that the draft bill, which will have to be approved by parliament, will make it obligatory with designated smoking areas before 2018.
He explains that the amendments will concern five laws. This includes an amendment to the law about advertisement, to completely ban advertisements for tobacco products. There will be a 'radical' increase in the fines for smoking in a no-smoking area. This fine is currently 20 laris. It may be doubled or tipled.
Gamkreidze said the enforcement of the law is currently too weak and amendments will include measures to address this problem.
"Under the current law, the Interior Ministry is obliged to monitor how the regulations of the law about tobacco control are followed in the country, but often the fine was symbolic – from five to 20 laris. If we consider that the MIA has lots of work to do, controlling tobacco has had less priority," he told us.
He said that according to the draft, the control mechanism will be divided according to sector.
"For example, if the offense is in the healthcare system, the Health Ministry is obliged to monitor. Restaurants and cafes will be monitored by another ministry, etc."
Stricter control of tobacco is part of a five-year plan which was approved by former Prime Minister Bidzina Ivanishvili in 2013 and concerns the period from 2013 to 2018.
By decree of Ivanishvili, the goal of this plan is to protect people, especially youth, from the harmful effects of tobacco.
The decree also offers statistics which shows that tobacco kills about six million people around the world every year. More than 600,000 of them die from passive smoking. More than 1.2 billion people globally are addicted to smoking.
Georgia's performance is one of the worst in Europe in this regard. According to the World Health Organization, from 9,000 to 11,000 people die of smoking every year in Georgia. About 3,000 of them die from passive smoking. 10 billion pieces of cigarettes are sold annually (0.5 billion packs), which amounts to about 0.58 billion laris.
According to WHO's 2010 study, 30.3 percent of Georgians smoke. 55.5 percent of men smoke and 4.8 percent of women.
The study conducted by NCDC with the support of the International Development Research Center of Canada showed that Georgia does not have proper legislation to restrict smoking.
The report says that 92 percent of shops and other outlets sell tobacco products. In 2 percent of cases, the tobacco is sold in the same section as children's products. 85 percent of facilities closer than 50 meters from a school sell tobacco.