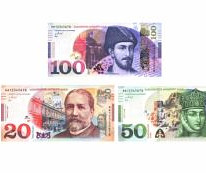 TBILISI, DFWatch–Georgia's National Bank has presented the design of the new lari banknotes, which will go into circulation in 2016.
The denominations that will get a facelift are 20, 50 and 100 lari. They will go into circulation alongside the old banknotes.
National Bank President Giorgi Kadagidze said at a presentation in Rooms Hotel on Tuesday that this is the first important renewal in the lari's 20 years of existence. The project involves several notable dates, events and factors, he said.
It is also new that the banknotes won't include signature of the Finance Minister of Georgia as it used to be in the past.
Kadagidze explained that the overhaul of the lari banknotes coincides with the twenty year anniversary of the establishment of the currency. The National Bank periodically replaces worn-out banknotes with new ones, and this was the right time for a renewal and did not require additional financing.
People will get to see and use the new banknotes from the beginning of 2016. The designers have kept all the persons who have been printed on these banknotes before, but added new elements to better depict Georgia's cultural and historical heritage, Kadagidze said.
He also announced that there will soon be new 5 and 10 lari as well.
Another new detail is that the banknotes will have the signature of the National Bank's president, as it is common practice to have the signature of the head of the body that has issued the banknotes.
The three banknotes will, as before, bear portraits of poet Shota Rustaveli, Queen Tamar and writer Ilia Chavchavadze, but with more vivid colors.
NBG launched a website which offers a comparison between the new and old versions of the banknotes. http://ganakhlebulilari.ge/