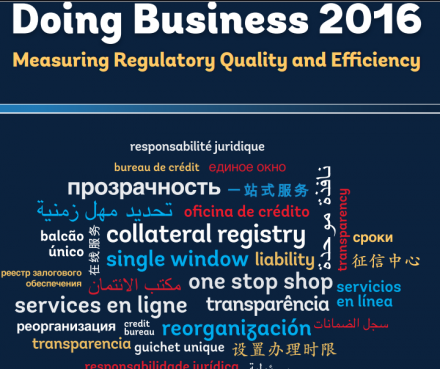 Tbilisi, DFWatch – Georgia ranked 24th among 189 countries, and still the first among post-Soviet countries, except Baltic States, in Doing Business 2016, a World Bank annual report that measures the costs to firms of business regulations, published on Wednesday, a way below of its 15th  position last year.
However, authors of the report explain they've changed the methodology and the position of Georgia hasn't neither improved nor worsened over the year.
"Georgia still has room to improve, however, as it performs less well on the new components of the protecting minority investors indicators (introduced in last year's report) than on the older ones," it reads.
In the 2016 report, Georgia improved in the following topics of the study: Dealing with Construction Permits, Enforcing Contracts, Getting Electricity, and Resolving Insolvency. But, it worsened its position in Starting Business and Getting Credit topics.
Dimitry Kumsishvili, Minister of Economy, said Wednesday that only 18 countries carried out two and more reforms and Georgia is among them.
In Eastern Europe Georgia is on the fourth place in the ranking, he stressed.
The minister remarked that reforms are crucial in this process and expressed hope Georgia's positions in the future would further improve.
In the new rank Georgia is between Portugal and Poland. Armenia ranked 35th, Azerbaijan – 63rd, Turkey – 55th, while Russia ranks 51st and Ukraine – 83rd; Singapore is first on the list, followed by New Zealand and Denmark, while Eritrea made it to the bottom preceded by Libya and South Sudan, respectively .
Prime Minister Irkali Garibashvili opened Wednesday's cabinet meeting with expressing his satisfaction with the new report.
Zurab Chiaberashvili, former Health Minister and Tbilisi ex-Mayor, and an ally of Mikheil Saakashvili, said on a briefing that the ranking clearly indicates the government hadn't taken 'any positive steps.'
"The two positive reforms described in the report are the result of the reforms launched three years ago as they reached their final point," he said.
Gia Zhorzholiani from the ruling Georgian Dream coalition is confident that the past rankings were  'inadequate', which is why the World bank decided to change the methodology.
"Today it is more relevant," he added.
Giorgi Tsagareishvili, member of Irakli Alasania's Free Democrats, calls for authorities to do the best in order that Georgia sustained top positions and doing business in the country was easier.
Vakhtang Lezhava, former member of Mikheil Saakashvili's economy team and now an expert at at the Free University , told journalists that the World Bank methodology kept changing over the years and Georgia always managed to improve business environment along with changes.
Read the full report: http://www.doingbusiness.org/~/media/GIAWB/Doing%20Business/Documents/Annual-Reports/English/DB16-Full-Report.pdf