TBILISI, DFWatch–A member of parliament from the ruling Georgian Dream coalition Monday evening openly praised Joseph Stalin and called him 'the greatest Georgian' of the 20th century.
Gogi Topadze, leader of the Industrialists Party, met Giorgi Kandelaki, a member of the former ruling party the National Movement, in a debate on the talk show Factor on Maestro TV.
"A picture of Stalin soon will be hung in every office, because he was a brilliant person and is acclaimed in the 20th century," Topadze said, adding that people will acknowledge that this person did 'goodness', that he was 'a symbol of Georgia.'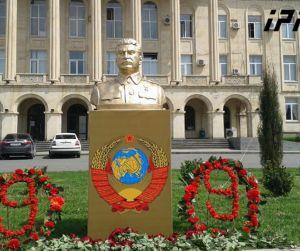 He continued saying that the world knows Stalin as a Georgian who defeated fascism.
"It is no business of Georgians to bad-mouth him," he said.
The journalist asked him whether he has a picture of Stalin in his office. He said he doesn't, but he plans to get one. He has photos of the Soviet dictator at home, as well as books.
"I will let you read those books. Maybe you will change your mind about Stalin," he suggested.
Georgia has outlawed communist and totalitarian symbols in public places, as buildings, monuments, notes, streets or village names promoting Soviet or fascist ideology.
After the change of government in 2012, groups of mostly elderly people have erected busts of the dictator in villages and towns. The symbols are usually targeted by pro-Western activists who throw paint at them, while local authorities usually dismantle the busts.
A few weeks ago, the local town assembly in Gori, Stalin's hometown, considered re-erecting the statue in his honor, which was taken down in 2010, in the nearby museum. The monument dates back to the 1950s and used to stand on the central square but was secretly dismantled in 2010. Council members did not support the proposal to re-erect the statue.