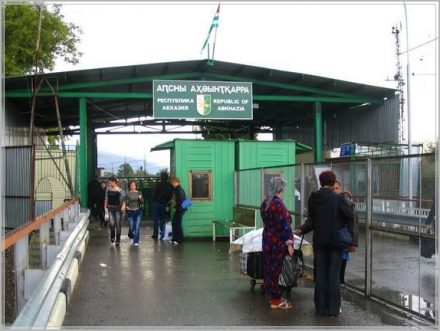 GALI, DFWatch–For almost a year and a half, people in Gali, in the south of breakaway Abkhazia, have been waiting for a new checkpoint to open on the administrative border line to Georgia proper, so far in vain.
The town and its surroundings are predominantly populated by ethnic Georgians who frequently need to cross the border, but as it stands, capacity is not sufficient to handle the traffic without massive delays.
Recently the congestion became even worse when service was restricted to only one customs booth serving travelers on Enguri Bridge, which led to long queues of people and hours of waiting time.
Not many years ago, there were four more crossing points to Abkhazia, but all of them were shut down by Sokhumi in 2014, leaving Enguri Bridge.
"I live in [the village of] Nabakevi and needed a few minutes to walk to the "boundary", now we have to go to the Enguri bridge," a local said to DFWatch.
"Now, naturally, we can't walk to the checkpoint. You should wait for a bus, take a taxi, or hitchhike or have your own mean of transportation," she said. "Moreover, when you come to the checkpoint you face such huge queues that you often have to return home. And again, wait for the bus or pay a taxi and so on."
Sokhumi explained the closure of the four checkpoint as being in the interest of the local population, but one resident we talked to disagreed.
"It is easy to guess that no resident exist in Gali who is happy about having more difficulties [in reaching a checkpoint]," she told DFWatch.
"It was said that one more Khurcha-Nabakevi checkpoint would be opened, but it is a fact that we still have to stand in enormous queues."
Breakaway authorities state that they have invested about 153 million rubles (USD 2.5 million) in developing roads and facilities at the Enguri central checkpoint in order to 'make the service more comfortable'.
"So a lot of dissatisfaction is those who have had income from illegal business and smuggling," Temur Nadaraia, head of the Gali de facto administration, told local media.
After coming to power in 2014, de facto president Raul Khajimba brought in tougher policies in Gali, which he regarded as the electoral base of his political rival and former de facto president Alexandr Ankvab, who opened the four additional checkpoints – in Otobaia, Nabakevi, Tagiloni and Saberio.
In the past, locals used many unofficial routes to cross the ABL, but after Russian border troops consolidated their presence in the region, this practice has become more and more dangerous and, finally, has almost totally disappeared.