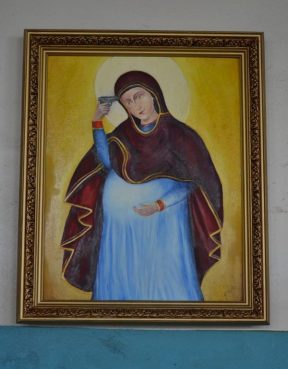 TBILISI, DFWatch–Georgia's Orthodox Church on Thursday denounced the largest private TV channel in the country, and asked its clergy to stop giving interviews to or participate in any of its programs.
The reason for the unprecedented step was that Rustavi 2 has engaged in 'blasphemy', the Church's ruling body, the Patriarchy, said in a statement posted on its webpage.
"We urge our clergy to stop any relationship with Rustavi 2, do not give interview and do not take part in its programmes," said the statement released on Thursday.
The Church also called on the Orthodox community in general to stay away from Rustavi 2. "It is desirable if the same action is taken by those to whom our church and values are precious," the statement continues.
But the Church did not only address its own following. The statement includes an appeal to international organizations and donors 'who facilitate the introduction of western values to our country' in a vaguely worded paragraph, supposedly rebuking non-governmental organizations (NGOs) for their activities.
"Show the [Georgian] public that European democracy is not the ignorance of ways of thinking and religious feelings of the vast majority of people, so as to avoid misconceptions," the statement reads.
It also calls on the authorities to 'undertake effective and quick steps to create legal and other mechanisms to protect the society, so that […] to avert a threat to the development of unmanageable processes."
Rustavi 2 has been at odds with the Orthodox Church in recent months. One of its talk show hosts Giorgi Gabunia was attacked in the TV company's parking lot after a making a joke involving the crusifiction of Jesus and the tree-moving of billionaire and Georgian Dream founder Bidzina Ivanishvili.
The latest outrage was when the show discussed recent attempts at censoring works of art. Priests and social conservatives were infuriated when a painting by the Georgian artist Lia Ukleba was shown on screen depicting the pregnant Mary, mother of Jesus, with a toy pistol. The title of the painting is "Virgin Suicide" (see photo).
The show's host Gabunia seems to have particularly infuriated the church with these words:
"You may notice that we have a strange guest in the studio, Mary with a toy pistol known as "Suicide of Lady Mother ", but since the pistol is a toy, she won't really kill herself, she will remain alive and will later give birth to Jesus, do not worry about it," Gabunia said.
Previously, when the painting was exhibited at the Ilia University in Tbilisi, it stirred significant uproar among clergy and far-right.