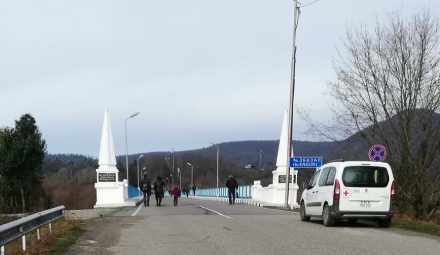 TBILISI, DFWatch–Long queues on the Enguri bridge has caused major interruptions for people wanting to cross the de facto border between Abkhazia and Georgia proper.
Locals told DFWatch the immediate reason for the traffic jam is that only one out of four passport counters is operational on the Abkhaz side, where the border is guarded by Russian troops.
That has caused enormous queues, which has caused many people to give up their attempts to cross the administrative borderline.
"We have to queue for hours. This has lasted for two weeks. Only one window is working. If the case is not urgent, it's not worth it to queue," a resident of the village Tagiloni told DFWatch.
The reason for the disruption in unknown, although locals are discussing several possible explanations.
Some locals think the Russian border guards have lost an electronic database, and are trying to build a new one, which requires time.
Others assume that the disruption is deliberate.
"Perhaps this has been done in order to earn more money on bribes [by Russian border guards]," a 60 year old Gali resident said. "If you have 1,000 rubles (USD 16) in your pocket and don't want to stand in the line, you step aside, pay money and pass without any problems."