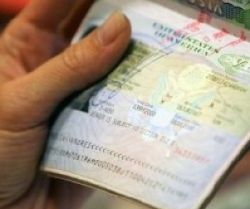 TBILISI, DFWatch–EU may add a suspension clause to the text of the document about visa-free travel for citizens of Turkey, Ukraine, Georgia and Kosovo. The addendum will give Brussels the right to rapidly bring back visa requirements if it becomes necessary.
German newspaper Die Welt wrote this in its Sunday edition citing diplomatic sources.
Levan Berdzenishvili, head of the parliamentary committee on Euro integration told DFWatch that the new point concerns mainly Turkey, not Georgia, and deals with what to do if Ankara won't follow up the agreement about accepting refugees.
However, the article in Die Welt claims that the new point in the agreement will concern Turkey, Georgia, Ukraine and Kosovo – states which may get visa free travel with the EU.
The article says the point in question involves abolishing visa free travel for citizens of Turkey if if Ankara won't implement obligations it has taken on concerning refugees. The obligation is to eliminate illegal migration and return illegal migrants from Greece to Turkey.
Die Welt writes that the same conditions may refer to Georgia, Ukraine and Kosovo, but it is unclear what obligations may be determined for Georgia.
The newspaper writes that it was France and Germany which required including this point in the visa liberalization agreement. It is still unknown whether the new point will be included in the agreement. Foreign ministers of member states will discuss this issue on April 21 in Luxemburg
Kakha Gogolashvili, head of the Eastern Partnership's Georgia's National Platform, which unites more than 100 non-governmental organizations in Georgia, says that EU has the right to bring back visa requirements anyway, so putting an additional point into the text doesn't really change anything.
Gogolashvili thinks that the new record in the text will help overcome the resistance of the most skeptic states.
"This new record in fact means that they agree to give Georgia visa free rules and rapidly, but they leave the right that if this decision brings negative results, visa free regime will be abolished," Gogolashvili explained to us.
He thinks it may be possible that the number of refugees from Georgia to EU may increase, like Georgians massively going to Europe using visa free rules and remaining there illegally.
"In this case there will be a warning that EU has the right to shut the visa free regime," he said.