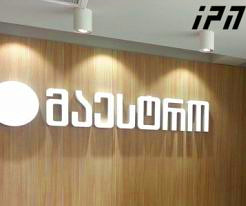 TBILISI, DFWatch–Tbilisi City Court decided Monday that the Georgian rock singer Giorgi Gachechiladze, also known as Utsnobi, will remain in control of the TV company Maestro.
The city court's ruling forms the conclusion of a several months long lawsuit over a packet of shares in the company.
Co-founders of Maestro Mamuka Ghlonti and Ekaterine Akobia filed the lawsuit, claiming that Gachechiladze had sold 25 percent of shares before he bought the remaining 30 percent and became owner of a controlling package in the TV company. The two also demanded that Gachechiladze transfer the 25 percent shares to them.
Judge Lasha Kochiashvili disagreed with Ghlonti and Akobia.
After the lawsuit was over, Ghlonti told journalists that he thinks the government was involved in the case.
"The government is attempting to claim media outlets before the election through fraudsters like Irakli Rukhadze and other people behind him," he said.
Ghlonti plans to appeal the city court's decision, but he doesn't count on winning the case in Georgia and his goal is to reach the European Court of Human Rights in Strasbourg.
The ownership dispute in Maestro started after Gia Gachechiladze became owner of 55 percent of shares on February 1. The singer purchased a 15 percent of shares each from the former owners Giorgi Ebralidze and Levan Chikvaidze. From before, he owned 25 percent.
The other owners are Maka Asatiani 25 percent, Mamuka Ghlonti 15 percent and Ekaterine Akobia 5 percent.