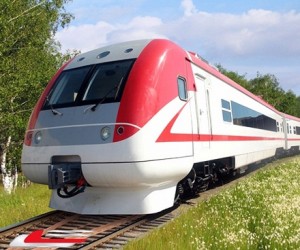 TBILISI, DFWatch–Georgian Railway is in talks about increasing rail freight between Iran and Bulgaria through Georgia.
The target group of the plan is Iranian investors looking to establish a foothold in the European market.
Through using the railway connection through the Caucasus, Iranian companies will be available to take advantage of the Bulgarian industrial zones and favorable tax system to make inroads in the European market, according to a statement published on the Bulgarian president's website.
The so-called 'transport corridor' was discussed by Bulgarian President Rosen Plevneliev and Iran's President Hassan Rouhani during the United Nations general assembly meeting in New York on September 19.
It will connect Bulgaria and Greece with the Persian Gulf, through Georgia, Armenia and Iran. Turkey won't be involved because of an increased threat of terrorism.
Representatives of the plan met on July 14-15 in Bulgaria.
Georgian Railway is going to modernize its infrastructure and refurbish its locomotives, though a spokesperson told DFWatch that the railways are already able to handle an increased freight load from Iran.
"We know that the European market is very important for Iran, and vice versa, and we see huge potential in these trade relations, and this gives us huge hope," spokesperson for Georgian Railway Dachi Tsaguria told DFWatch.