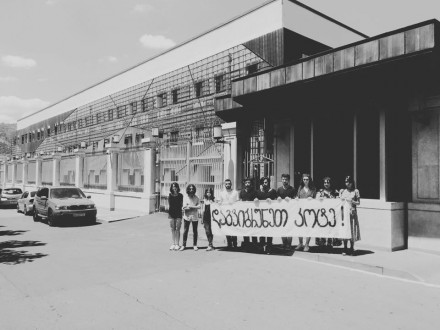 TBILISI, DFWatch–Groups demonstrated Thursday to ask the president to release a 22 year old man who is serving a one year prison sentence for possession of two grams of ecstasy.
Kote Japaridze, the recipient of a presidential scholarship, was arrested on May 30 for buying and being in possession of two grams of Methylenedioxymethamphetamine (MDMA), also known as ecstasy.
He is serving a one year prison term after making a plea agreement and must also pay a 25,000 lari fine.
Japaridze's lawyer Nino Gelashvili told DFWatch that the government in 2015 amended the law to distinguish between drug consumers and dealers, but in practice Georgia's drugs policy stayed the same, she said, calling the policy 'repressive'.
She recalled that one of her clients, who was arrested before the new 2015 law, was sentenced to eight years in jail. At that time, the law prescribed from seven to fourteen years in jail for that kind of crime. When the new law came into force, the punishment was reduced to five to eight years in jail. She then asked the court to adjust her client's sentence accordingly, but the court didn't change the sentence.
The lawyer noticed that nothing really changed after the amendment, because there are at least 147 types of drugs which do not have a definition of what 'small amount' means. This is significant, because the law prescribes different punishment for the same drug, depending on the amount.
"There are types of drugs which only have categorization of large amount, for example 0.00009 grams of desomorphine is large amount, 0.0000033 grams of amphetamine is large amount too. The drug policy cannot be more humane and loyal if the law doesn't determine what a small amount is for these drugs, as it could really differentiate the drug consumer from the drug dealer," she told DFWatch.
The support campaign for Kote Japaridze began a few weeks ago with an online petition demanding his release. The text of the petition reads that Georgia treats drug users inhumanely and that the drug policy is 'disproportionately strict and degrading.' The petition has collected more than 3,000 signatures.
In the ensuing public debate, there have been calls also from the public defender for revising Georgia's drug policy and change the level of punishment for drug users. They argue that the current drug policy is aimed at punishment, not treatment and support.
In 2012, before coming to power, the ruling Georgian Dream coalition promised to change the country's drug policy. This was one of their election promises. However, almost every draft law related to liberalization of drug policy has failed to be passed in parliament.
Among them was an initiative by MP Goga Khachidze from the new party Girchi. His bill was about changing the drug testing process. In June 2015, a man died in Kutaisi after being forced by police to take three diuretic pills in connection with drug testing. Later, the victim Levan Abzianidze's wife claimed that her husband had died because the pills caused his blood pressure to drop. A forensic examination is still in progress to determine the cause of death.
Over the course of the four years since it came to power, the government has passed only one drug related law, which according to drug liberalization activists is only a façade. The bill was prepared by the Prosecutor General's Office, together with the Justice Ministry and the Interior Ministry. It was an amendment of only one section of the Criminal Code, article 260, to set tougher punishment for drug dealing, and less severe for buying and storing drugs. Before the change, producing, buying, storing, moving, sending and dealing drugs was all punished by six years in jail, but after the amendment, producing, buying, storing, moving, and sending is punished by up to six years in jail, while dealing is punished with from six to eleven years in jail.
Lawyer Gelashvili told DFWatch that there were no drugs confirmed in Japaridze's blood and he is charged with buying and storing a large amount of drugs which is punished from eight to twenty years in jail or with lifetime imprisonment. However, due to a plea agreement with the Prosecutor General's Office, he was sentenced to one year in jail, a 25,000 laris fine and five years of suspended sentence. He is not allowed to drive for five years; he is not allowed any medical or lawyer activities, teaching or working in educational facilities, working in public service and passive voting rights for ten years.