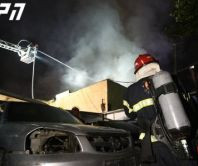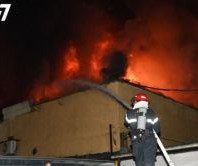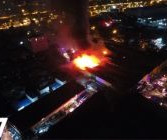 TBILISI, DFWatch–A fire tore through Georgia's largest outdoors market Sunday evening, leaving at least four people hospitalized, including one firefighter, and devastating up to 2,500 square meters of commercial space, officials said.
The fire at Eliava bazaar in Tbilisi started somewhere in the auto spare parts section, the Ministry of Internal Affairs stated.
Around 150 firefighters were mobilized and by midnight the fire had been mostly extinguished.
Dozens of angry vendors rushed to Eliava bazaar, and argued with officials from Tbilisi City Hall and the Didube district authority who were present at the scene.
They suspected foul play and pointed out that over a dozen bazaars and markets have been devastated by fire during the last few years.
A large blaze which began at Children's World shopping mall spread to the outdoors bazaar near Tbilisi's central railway station in late January, affecting more than a thousand vendors.
A clothes bazaar in Zestaponi caught fire in August last year.
In the summer of 2015, there were several big fires in Tbilisi. In July, at Saba furniture market and in August, at Eliava bazaar where two people died.
The Ministry of Internal Affairs has launched an investigation.