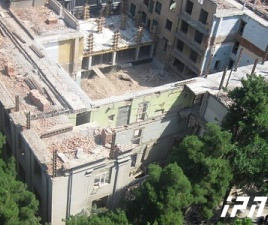 TBILISI, DFWatch–14 people died, and 11 were severely injured during construction work in Georgia in 2014, according to a report published by the country's United Trade Unions and the Union of Construction Workers and Forestry.
A deadly collapse of a building in Tbilisi left four people dead Monday, including a 17 or 18 year old.
According to the UTU report, altogether 41 people died at their workplaces last year, while 66 were injured.
The union calls for a special investigation to find out the cause of the tragedy.
"Construction work is often conducted in flagrant violation of safety rules," the report reads, suggesting that either violation of work standards or bad quality of the building caused the collapse.
Tbilisi City Hall on Monday said that city's architecture service issued a reconstruction license for the building, which belongs to Tiflis Business Center, in August, 2014.
The company presented all the necessary documents before receiving a license, which included a blueprint for construction, and engineering and geological reports.