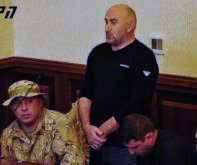 TBILISI, DFWatch–Ten persons have been convicted in the case about a secret weapons cache in Samegrelo, a region in eastern Georgia.
In summer of last year, the government found weapons, video and audio recordings buried in barrels in the ground in Samegrelo.
Apart from weapons, the barrels contained thousands of files of secret surveillance material, including scenes of torture and rape.
One of the accused Ruslan Shamokhia, was released during today's court hearing.
Two others, Kokhta Todua and Megis Kardava, were sentenced to nine years in jail. The latter was convicted in absentia as he is currently abroad. Kardava was head of police in the Samegrelo Zemo Svaneti region when the crimes took place.
The rest of the accused, Irakli Akhalaia, Paata Kiria, Koba Todua, Giorgi Bulia and Temur Ubiria, received sentences ranging from two to nine years.
Marlen Khvitia and Gocha Shonia made plea bargain agreements.