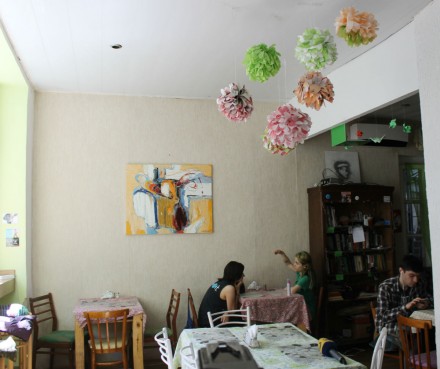 TBILISI, DFWatch–Tbilisi's embattled vegan café Kiwi is looking for a new location after neighbors complained about its environment and guests.
One of the employees of the café told DFWatch that the owner two weeks ago barred them from putting tables outside, because there are children there and they do not like when people are hugging each other.
"This is a country of traditions, you know," Lasha told us.
He said that two weeks ago one of his friends who has his hair dyed in green was told by a neighbor of the café that entire neighborhood was against him.
'They cannot accept that LGBT people come to our café, that boys may have their hair in a different color, or may have a piercing. We even have audio recordings which we will publish as soon as we leave this place," Lasha says.
He told us the recordings prove different kinds of discrimination. One of the examples involves the owner of the café, the other one her son.
"The son of the owner [of the café] told us that they've heard about vegan cafes, however, they said Georgia is a country of traditions and people will never accept a man wearing flowery pants."
Kiwi Café will remain on Vertskhli Street in the old part of the capital until the end of month, but the staff is looking for a new location.
A lawyer advised them to contact a non-governmental organization, a possibility they are now considering.
Goga Khatiashvili, a lawyer working for Georgian Young Lawyer's Association, told us that there are signs of discrimination in the May 29 incident at Kiwi café.
"It's hard to say whether those messages and shouts to people in the café was discrimination or not, but I think that the investigation took this direction as well – whether there was a crime based on discrimination," Khatiashvili told us.
In his opinion, if investigators find signs of discrimination, then the punishment has to be more severe.
Employees of Kiwi reported in the evening of May 29 that several Fascists or Nazis broke into their café.
A young girl who also works at the café told DFWatch that they have identified members of a racist group called 'Bergman' among the attackers. They allegedly were together with their leader Giorgi Bakradze.
She said that the attackers were wearing chains of sausages around their neck and were throwing meat at the guests.
"Aren't you a Georgian? How can you not eat the meat? – they yelled at guests," the girl recalled.
The Ministry of Internal Affairs launched an investigation under article 125 of the Criminal Code about beating, which may be punished by a fine or community work.
June 1, an MIA spokesperson told DFWatch that the investigation continues but they didn't tell us whether they have a suspects.
Wednesday, employees at Kiwi told us that they don't have any details about the investigation, but as far as they know, investigators are not searching for nationalists.
Since the incident on May 29 many people have come to Kiwi Café to express support.
"One of them was a priest – father Damiane, who, it turns out is a vegetarian for the past 15 years, and now it has been a year, he is a vegan. He came here and told us that it is not anyone's business how other people dress. The ambassador of the US expressed support, as well as Moby, Auditorium 115, different NGOs, but I cannot remember everyone, foreigners, like yesterday, people from the UK sent us a picture with old people holding posters which reads the name of our café," Lasha told us.